DFID Research: A farmer-friendly approach to preventing avian flu in Viet Nam
Improved hygiene in poultry production can reduce the spread of avian flu and improve livelihoods of smallholder farmers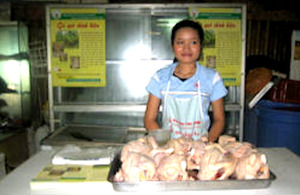 A pilot quality assurance scheme for poultry products in Viet Nam has successfully demonstrated how hygiene in poultry production can be improved, reducing the spread of avian flu and providing better markets for smallholder farmers.
A DFID-funded partnership has pioneered an innovative approach to prevent the resurgence of Highly Pathogenic Avian Influenza (HPAI) in Viet Nam. As part of its worldwide Pro-Poor HPAI Risk Reduction project, which explores alternative approaches to reducing HPAI and its impact on smallholder farmers, a successful pilot programme has taken a demand-driven approach, introducing a traceable labelling scheme that links safe on-farm practices to consumer demand for guaranteed disease-free meat.
Using a certification scheme, the pilot programme provided farmers with sufficient incentive to meet health standards in raising their poultry. As customers, concerned about quality and health, willingly paid a price premium of US$0.63 for certified chickens, participating farmers were able to access higher value markets. Chicken bearing the programme logo and guarantee of safety was sold in four markets outside Ha Noi. As a result of this success, wider donor interest has been generated and the pilot programme is being scaled up to national level with support from USAID and a private Vietnamese company.
DFID provided about £4 million in funding to the Pro-Poor HPAI Risk Reduction project between 2007 and 2010. The pilot certification programme was one of the many initiatives considered under this project. Other activities under the project have included spatial modelling of disease spread, assessments of the relative cost-effectiveness and impacts of control strategies, and proactive policy guidance in South-East Asia and Africa.
Read the full version of this case study.
Further reading
Ifft, J.; Otte, J.; Roland-Holst, D.; Zilberman, D. (2009) Poultry Certification for Pro-Poor HPAI Risk Reduction. HPAI Mekong Team Working Paper No. 6
Published 3 March 2011