David Agnew, age 52, and David Watson, age 46, Irvine, Scotland: Work Programme real life story
'The support I received was incredible, helping with all sorts of practical and financial stumbling blocks for me along the way.'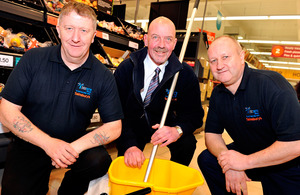 David Agnew, age 52, was out of work for 18 months, despite having management experience. Work Programme provider, Ingeus recommended him for a cleaning manager post and he is now in charge of running of the team.
At 52 years old, I feared I would never get another job," said David. "The support from Ingeus was incredible though, motivating me to go for the manager role and helping with all sorts of practical and financial stumbling blocks for me along the way.
His colleague, also called David, thought his working life was over after being unemployed for 6 years. Now a supervisor with Interserve, contract cleaners he said:
I got pretty depressed being out of work for so long but then I started working with Ingeus and they encouraged me every step of the way. We looked at my job goals and worked on my interview technique, I really appreciate all the work they do behind the scenes. This job has given me a new confidence and I'm absolutely over the moon.
The Work Programme is part funded by the European Social Fund.
Published 15 April 2013