Case study
Connected car firm Lightfoot receives £1 million innovation loan
The company, which rewards efficient drivers, has received one of Innovate UK's new innovation loans to help develop its technology and rewards platform.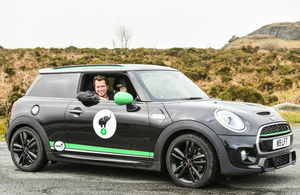 Its technology – which has been described as a 'Fitbit for cars' – is a small device that sits on a vehicle's dashboard.
It monitors a user's driving and shows real-time and long-term feedback to encourage better, more efficient driving. The results are a lower cost of motoring, fewer emissions, and improved road safety.
Previously available commercially to companies with driver fleets, Lightfoot is planning a consumer launch in Autumn 2018, which the loan will support.
Rewards for drivers
Lightfoot's technology incentivises drivers to stay in the 'sweet spot'. The hardware supports a platform which provides rewards for better driving through deals, discounts and prizes.
Lightfoot even has leader-boards for the best drivers, effectively gamifying positive driving behaviours.
The initial roll out has been commercially-focused, receiving positive feedback from fleet managers and insurers as it has reduced costs and accidents.
Another knock-on effect has been that drivers who become 'Elite Drivers' using the Lightfoot system receive cheaper personal car insurance outside of their job.
Reaching the next stage
The next stage for the company is to roll out beyond business trade to the public consumer, with the ultimate goal of connecting the technology to smart city systems.
A new £1 million innovation loan from Innovate UK is part-funding this ambition.
Mark Roberts, Lightfoot CEO, said:
This loan is pivotal for us. We are on the brink of our B2C launch but are determined to find the perfect balance between expansion and maintaining the quality we offer our B2B customers.
Receiving this loan means we can validate the right commercial model for what is, potentially, a landmark contribution to the health of our air and roads.
The consumer launch will see users access the company's rewards platform and technology but will also include intelligence on the car's tax records, plus service alerts, mileage reporting, and vehicle health alerts.
Lightfoot also previously received a 3-year grant from Innovate UK as part of an investment into autonomous and connected vehicle technology.
Innovation loans
Innovation loans were launched in 2017 as part of a pilot programme that will run to 2019. There will be a total of up to £50 million available for business innovation projects.
Lightfoot is one of 13 companies to receive a loan offer from Innovate UK in the programme's first competition, receiving funds from a total commitment of £8 million.
Mark said:
Our Innovate UK grant-funded projects have succeeded brilliantly, but we funded their commercialisation ourselves.
Converting Lightfoot into a consumer product is a bigger beast, so securing this loan was essential.
The innovation loans programme is open to UK-based SMEs and successful applicants are able to borrow between £100,000 and £1 million at low-interest.
Supporting growth
The programme is designed to help scale up some of the country's most innovative companies.
Lightfoot has grown its staff significantly, out-growing its premises on an Exeter light-industrial estate, and has just moved into new purpose-built premises.
Lightfoot was initially formed as part of Ashwoods Electric Motors to focus on connected transport products and services but is now a standalone company.
Published 19 June 2018