Case study
Chiaro: UK tech company develops pelvic floor exercise tracker
Innovate UK funding support helps innovative women's tech company Chiaro create breakthrough health product using latest sensor technology.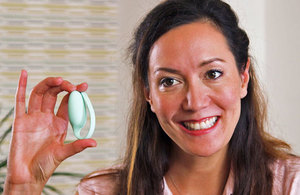 Chiaro launches pelvic floor exerciser
Chiaro: healthtech innovator launches pelvic floor exerciser
Elvie is the first product launched by British women's tech company, Chiaro. It combines the latest developments in wearable technology with cutting-edge medical advances.
Elvie is an exercise tracker for the pelvic floor. Users can use their smartphones to track progress and find out how to improve their technique.
Innovate UK awarded the business a grant in its start-up phase.
Tania says that one in three women have bladder problems and one in ten need an operation. She adds that most women don't think about their pelvic floor until they are pregnant or they've had a baby. There has been no technological innovation in this area for ages – until now.
An essential aid to women's health
Tania says:
Elvie is so important for every woman out there. Your pelvic floor is a key part of how we need to look after our bodies. What we did was take the best of medical technology and turn it into something elegant and simple to use.
Without regular exercise, pelvic floor muscles can cause more than half of all women's bladder, sex or prolapse problems.
Elvie is the smallest kegel tracker available and 98% of testers found it comfortable to use. Made from medical-grade silicone, it uses the latest in sensor technology. Elvie has won a number of awards including the Red Dot Award: Product Design in 2016 .
Elvie's journey to market
"Innovate UK has been an amazing partner," says Tania. "I've also been involved with some of the mentorship programmes. Innovate UK helped bring in the first investor as well as my co-founder Alexander. In so many ways it was transformational."
Tania says that winning the Innovate UK grant was "one of the happiest days of my life". She says that the grant award confirmed to her that the business and idea had real merit. "I quit my job the next day."
Chiaro launched Elvie less that 2 years after winning the grant. Tania says:
Launching Elvie was always going to have a lot of risks because it's a completely new product category. We just didn't know how women would respond. I've just been overwhelmed with how wonderful the feedback has been and how quickly women have adopted this.
The company has grown quickly too, from 5 employees in 2015 to 22 now, to an expected 30 by the second quarter of 2017.
Tania continues:
Since we launched in October [2015] we've just been selling online. We really needed to prove the product market fit – now we're ready for global revolution.
Published 20 October 2016