Bob Sayce, Worksop and Graham Simpson, Tuxford: Work Programme real life story
The Work Programme was a turning point for Bob. Ingeus recognised he had valuable skills and what he needed was to be given a chance.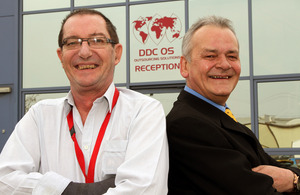 I was given hope that there was a job out there for me.
Bob Sayce had a heart attack in 2007 and his health condition meant he lost his job as a continental truck driver. Bob tried hard to find alternative work, applying for hundreds of jobs but without success. Bob said:
I knew I was capable of working but as soon as I mentioned my heart attack employers didn't want to know.
When Bob entered the Work Programme this proved to be a turning point for him. Ingeus took the time to really understand him and recognised that he had valuable skills and what he needed was to be given a chance.
Bob was given hope that a suitable job was out there and an opportunity came up at DDC Outsourcing Solutions that matched Bob's skills perfectly. Ingeus put his name forward as a suitable candidate and Bob was delighted when he was offered the job. He has now started work and loves every minute of it!
Graham Simpson had spent 14 months looking for a job, having experienced unemployment for the first time since he left school. Graham said:
I was self-employed but as the recession began to bite I realised my business was unsustainable. My first reaction to being unemployed was deep shock, and then I felt devalued and deflated. Despite my many attempts to get a job I was unsuccessful and I soon started to realise I could not do it on my own.
Work Programme provider, Ingeus helped Graham review his past experience, and talked to him about the kind of jobs that would make best use of the skills he had gained in the past. They helped him complete a compelling CV and showed him how to sell himself in job interviews. As a result, he applied for the position as a sales advisor for DDC Outsourcing Solutions, and he was appointed soon afterwards.
The Work Programme is part funded by the European Social Fund.
Published 15 April 2013