Case study
Bare Conductive: original paint technology opens a digital world
A business that developed a conductive paint is set to contribute to the Internet of Things revolution and transform traditional products.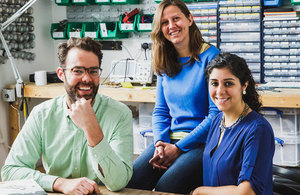 Bare Conductive senses new markets
Bare Conductive: original paint technology opens a digital world
A business that developed a conductive paint with support from Innovate UK is in demand from other businesses that see exciting new uses for its technology.
Bare Conductive began developing products such as its Electric Paint Tube and its Touch Board after winning a £100,000 Innovate UK award in 2010.
Electric Paint is a material that can be applied to hard and soft surfaces, from cement and wood to paper, and it becomes electrically conductive when dry. It can be used to trigger switches, activate sounds and as a sensor.
New markets
While its products were initially aimed at the consumer market, Bare Conductive is now finding itself in demand from engineers developing products for the Internet of Things market or looking for ways of digitising analogue products that are not connected to the Internet.
Matt Johnson, chief executive, said:
We sell products directly to individuals, often designers and engineers at large companies. It's very difficult for us to understand what the opportunities are in industry, but those engineers are well placed to explain them to us and they are well placed to test our products.
They will purchase a Touch Board or some Electric Paint, prototype a solution to an existing problem, and then they literally call us and ask how they can incorporate it into their next product.
The maker movement has been very good at transforming our business from a directly consumer-facing business to a business that's now doing much more B2B work.
Partnership helped business to accelerate
Bare Conductive was started by four Royal College of Art students in 2009, Matt, Bibi Nelson, Isabel Lizardi and Becky Pilditch. All four remain, and the business is now nine-strong and expects to take on another three people this year.
Since receiving funding, Bare Conductive has maintained its relationship with Innovate UK and this has played a key role in its success.
Matt added:
The funding we received from Innovate UK was fantastic and it's the foundation of our success.
On top of that, the partnership we have with Innovate UK has allowed us to open doors that we would never have opened before. That's relationships with manufacturers and parts of our supply chain that really have allowed us to accelerate.
Published 6 April 2016