Australian skateboards cruising into Europe
With help from UK government, Absolute Board Co successfully set up in the UK and now employs 34 people in its 29,000 square foot facility
This case study was withdrawn on
This page has been withdrawn because it is out of date. For information on exporting visit great.gov.uk.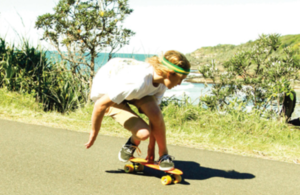 This company was assisted by UK Trade & Investment (UKTI), which has since moved to the Department for International Trade (DIT).
Absolute board Co. is going from strength to strength fulfilling in-store and e-commerce orders from across the UK and Europe. It has recently moved to new premises having outgrown its UK set-up location in less than 3 years.
Broad distribution channels
In less than a decade, Absolute Board Co. established itself across Australia. In May 2011, the company launched in the US, the world's most competitive surf and skate market. It has seen rapid success working with international retail partners such as Zumiez, Quiksilver, Billabong and Rip Curl.
As European interest grew, Absolute Board Co. decided that a regional presence would be beneficial to continue to satisfy orders. The UK offered lower income tax and transportation costs compared to trading in Europe from the US or Australia. The size of the local in-store and e-commerce markets, and the fact that it is English-speaking, also made the UK the clear choice for a European distribution hub.
Up and running with UKTI's help
In June 2012, Absolute Board Co. turned to UK Trade and Investment (UKTI) in Brisbane for help with its UK and European expansion plans. The company was looking for a warehouse that would place them near a vibrant skate market and provide access to national and international freight and distribution links. With UKTI's support, it was able to narrow down the choice to Northampton and Southampton.
UKTI in the UK joined with the Local Enterprise Partnership (LEP) teams in Southampton and Northampton to help Absolute Board Co. organise visits. This included viewing properties that matched its logistical and commercial interests. The company was attracted to the skate culture on the South Coast. Southampton looked to strike a great balance between branding and distribution considerations.
With UKTI's continued support, they were able to:
finalise the warehouse location
access local legal, accounting and recruitment advice
source the necessary facilities (from specialised racking for the warehouse to internet and phone lines)
In September 2012, Absolute Board Co. started to support all of its European sales exclusively from its new UK base.
Luke Campbell, Director at Absolute Board Co. said:
It took less than 10 weeks from when we sat down with UKTI in Brisbane for our UK distribution centre to open for business.

UKTI works effectively and efficiently to provide you with top quality, relevant information. They help you to decide how to proceed, and then provide the support needed to move forward and achieve your goal.

We had high expectations for our UK operations and we are grateful to UKTI and both the Southampton and Northampton LEP teams for helping us to achieve such a tremendous result.
European Expansion
Once set-up in the UK, UKTI continued to support Absolute Board Co.
In less than 3 years since setting up in the UK, Absolute Board Co. has firmly established itself in the UK and Europe as a global leader in skate hardware products and innovation.
With a broad distribution model that also includes boutique fashion and independent retail stores, online retail channels and its own e-commerce platform, Absolute Board Co. products are now sold in 70 countries across the world.
The growing success meant they needed to upsize to bigger premises. Absolute Board Co. has recently relocated to a 29,000 square foot facility – more than double the size of their last warehouse. Its operations in the UK now employ 34 people and turnover in the UK has recently reached £1 million per month.
See what Ollie Berney, Absolute Board's General Manager for Europe, thinks about investing in the UK.
Absolute Board Co: investing in retail in the UK
About Absolute Board Co.
What do surfers do when there are no waves? That was the question that Californians were grappling with when they developed skateboarding as a dry-land alternative.
Established in Australia in 2002 by Ben Mackay, Absolute Board Co. owns and distributes three of the most popular brands in the skate industry today. They produce shop boards customised for skate shops across Australia, UK and USA, to sell as their own. They also manufacture and sell timber skateboards under their price point brand 'Seven Skates'.
In 2009, it launched its first plastic skateboard under the 'Penny Australia' brand. One year later acquired global rights to the famous 'Z-Flex' brand. In 2014 Absolute Board Co. also became global distributor for the Australian brand of barber shop products, 'Upper Cut Deluxe', whose authentic style complements the skater culture.
Fast facts
| | |
| --- | --- |
| Company | Absolute Board Co. |
| Sector | Leisure and Tourism |
| Country of origin | Australia |
| Investment locations | Southampton |
| Website | www.absoluteboardco.com |
Published 24 July 2015
Last updated 29 September 2015
+ show all updates
Added video

First published.