Case study
ASV Global delivers key surface vessel for MOD maritime programme
Small and medium enterprise ASV Global are working with defence to deliver innovation for the Maritime Mine Countermeasure and Hydrographic Capability Programme.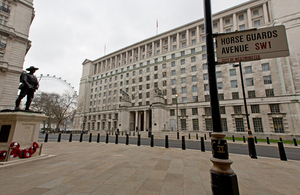 ASV Global is a small business based in Portchester, Hampshire with 60 employees specialising in the design and build of unmanned and autonomous marine systems.
ASV Global is responsible for the Unmanned Surface Vessel including Retractable Sonar within the Maritime Mine Counter Measures (MMCM) demonstrator project.
The MMCM project is a collaborative procurement between the UK and France, managed by European organisation Organisation Conjointe de Coopération en matière d'Armement (OCCAR), a European intergovernmental organisation that manages collaborative armament programmes between the nations of Belgium, France, Germany, Italy, Spain, and the UK. The OCCAR community consists of 13 states in total, as Finland, Lithuania, Luxembourg (represented by Belgium in the A400M Programme), The Netherlands, Poland, Sweden and Turkey are also participating on equal terms in one or more OCCAR programmes (as "Participating States") without being OCCAR member states.
This project will deliver an Unmanned Mine Countermeasure Demonstrator to both nations, meaning we can de-risk unmanned maritime systems for exploitation by the Mine Countermeasures and Hydrographic Capability (MHC) programme.
Vince Dobbin, Sales and Marketing Director, ASV Global, said:
Working with MOD gives ASV Global the opportunity to exploit its innovative technology on an international basis. The programme has given ASV Global exposure to working with large multinational organisations and has enabled us to grow our business by employing more local talent to work on this project.
Published 6 September 2016