Case study
Astrosat (Guatemala) Forestry Management
Forestry Management and Protection System for Tackling Illegal Logging in Guatemala.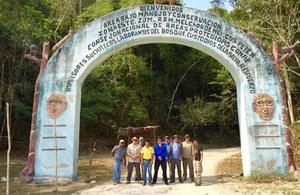 Target Country
Guatemala
Project Lead
Stevenson Astrosat Ltd
Project consortium
EO Ltd; Deimos; Telespazio Vega
International partners
National Forestry Institute (INAB); National Council of Protected Areas (CONAP); Guatemala Environmental Police Force (DIPRONA); Ministry of Agriculture (MAGA); Universidad Rafael Landívar; ARCAS Guatemala
Project Summary
The illegal exploitation of the forest environment is a real concern to the Guatemalan government. Illegal removal and transit of valuable trees, change of land use and other such unregulated activities in this environment are having huge impacts, both environmentally and socioeconomically, in the country. The Guatemalan government has made efforts to tackle this problem by embracing digital technologies, improving its processes and by pooling information between all stakeholder agencies; but the fact remains that the problem is persistent due to the forests of Guatemala being too big to be effectively monitored and managed using conventional techniques at hand.
This project aims, through the use of space technology, to solve this issue by improving the capabilities of the agencies responsible for forestry governance. The FMAP project will provide a centralised platform, based on satellite remote sensing and Global Navigation Satellite Systems (GNSS) technologies, that will enable intelligence led governance and policing which have the largest impacts on tackling this problem.
Objectives
To reduce the drivers of deforestation in Guatemala by creating a space technology driven forestry management tool.
To reduce Land Crime through increased land use change detection with a higher temporal resolution to provide intelligence for DIPRONA enforcement officers. DIPRONA will be able to arrest or prosecute parties guilty of illegal activities due to the increased knowledge and situational awareness provided by Forestry Management And Protection (FMAP).
Upgrade and improve existing traceability systems through the addition of space based data and GNSS mobile applications to support better forestry management, enforce prosecutions and reduce fraud. FMAP will reduce costs of measurement, reporting, verification and prosecutions through the concessions system.
Increase the efficiency, impact and scalability of the forestry incentive programs by reducing the costs of monitoring and land-use verification in the current systems. This will utilise GNSS mobile applications and space-based data to improve INAB's ability to track land management, increasing capacity and decreasing the number of fraud cases.
Published 26 January 2017