Case study
Apprenticeships engineered for success
Blue Engineering is a structural engineering firm, based in London, that launched apprenticeships in 2012. Past and present apprentices now account for almost half their workforce.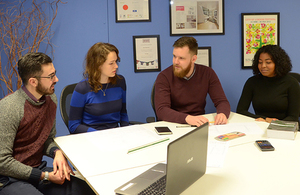 Pushing boundaries
With creativity being key to the company approach, Blue Engineering places significant value on the youthful energy and innovation brought by their apprentices. Starting with just one apprentice in 2012, the apprenticeship programme at the organisation has gradually developed as the company has grown, and is now a permanent feature. Eight apprentices are currently employed at the firm and the company offers 3 to 4 two-year level 4 Civil Engineering apprenticeships each year.
James Nevin, Partner at Blue Engineering says:
As a growing business in a competitive industry, our dynamic workforce is our strongest asset, and apprenticeships provide a constant stream of fresh talent. Hiring apprentices is integral to our growth strategy and ensures that we're constantly at the forefront of innovation in structural engineering.
Long-term development
The company is keen to ensure that its apprentices can progress as far as they possibly can. James explains:
Apprenticeships provide an invaluable framework for bright young minds who may not fit within the more traditional education system. Whether we go on to offer them a full-time role or help them fund their studies at degree level alongside part-time work, our apprenticeship programme allows us to nurture a culture of drive, growth and innovation, which gives us a great competitive edge.
Forging strong links with local colleges, including South Thames and Westminster, the company advertise their apprenticeship programme through the colleges' online portals. Following this, the firm hosts a meet-and-greet afternoon, giving applicants the opportunity to meet the team and get a feel for the company's character. During this session, the applicants have informal interviews before being shortlisted for formal interviews with the partners.
Jess Ansell, Design Engineer at Blue Engineering, and head of the apprenticeship programme explains:
The reason for this careful selection process is that, as a small company, it's important that not only skills but personalities match! We want our apprentices to have a long-term future at the firm and help us continue to grow as business – therefore it is imperative we get the right people on board right from the beginning.
If you are interested in finding out more about employing apprentices and the benefits they can bring to a business like Beauty Oasis Spa, you can arrange a call from an experienced adviser via the national helpline on 0800 015 0400.
For information about how apprenticeships can work for your business, visit www.apprenticeships.gov.uk.
Published 27 February 2018