Case study
AECOM expands in Brazil with contacts and help from UK government
UK government helped AECOM find new business in Brazil, through introductions to contacts in government and the private sector.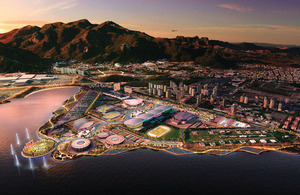 This company was assisted by UK Trade & Investment (UKTI), which has since moved to the Department for International Trade (DIT).
Global design and management consultancy AECOM works with governments and a range of sectors to provide architecture, engineering, and consultancy and management services. Founded in 1990 in the US, it has 45,000 employees spread across 130 countries, with more than 3,000 employees in the UK alone.
For many years, the company's large UK office has worked closely with UKTI, taking advantage of its advisers' local know-how, conferences, networking events, introductions to government leaders and business services.
In May 2011, UKTI invited AECOM to the Brazilian Olympic Contractors Conference in London where it met with large Brazilian companies and contractors. The meetings allowed AECOM to develop important business relationships which have now led to over 12 new contracts.
To succeed in Brazil, it's essential to develop strong personal relationships with business leaders in order to gain trust and respect,
says Bill Hanway, Executive Vice President for AECOM's Buildings + Places group.
The introductions that UKTI has made helped us to connect with exactly the right people, leading to new contracts for our firm. UKTI's unwavering interest in helping British companies in Brazil has made it much easier for us to find new clients.
They didn't just make contact with us once and then forget about us. Their advisers provide ongoing support to ensure that when opportunities arise we are aware of them. Every time I visit Brazil, I always know I can call upon them for advice.

Thanks to experience gained designing the masterplan for the London's Olympic Games, AECOM was awarded the contract for masterplanning and design services through to 2016 for the Rio Games.
Bill Hanway comments:
UKTI's introductions have been invaluable to us in establishing a presence in Brazil and positioning us to secure masterplanning and sports design work there,
These relationships initiated by UKTI have continued to develop and have generated a number of significant projects.
Fast facts
Company: AECOM
Industry: Global sports projects
Website: www.aecom.com
Published 12 February 2015