Case study
Adam Smith International signs £8 million agreement with MCC
UK government helped Adam Smith International win contracts in the aid-funded sector with Millennium Challenge Corporation (MCC) and USAid.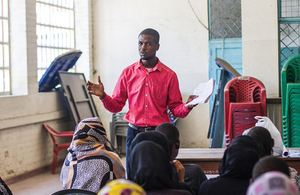 UKTI has helped award-winning professional services business Adam Smith International to connect with donor organisations funding international development projects.
Adam Smith International delivers projects to improve local conditions in over 100 countries. It specialises in working with ministers, government officials and citizens in fragile and conflict-affected areas.
UKTI helped the company identify suitable tenders and find potential overseas delivery partners.
Adam Smith International secured a Blanket Purchase Agreement with the MCCfollowing a sales alert from UKTI's free Business Opportunities service. The agreement is worth up to £8 million over the next 5 years. UKTI also put the company in contact with procurement staff at USAid. This resulted in a contract with a US funded project in Somalia.
Peter Young, Strategic Director at Adam Smith International says,
UKTI has been incredibly supportive of our business, proactively giving us access to its networks, and getting us in front of new donor clients, like USAid and MCC. Having their backing is a real asset to our business.
New overseas business
Many of the projects that Adam Smith International has been involved in have been funded by the Department for International Development (DIFD) and the Foreign and Commonwealth Office (FCO).
In recent years, the company has sought to branch out and work with other donors, including USAid, the Inter-American Development Bank and the World Bank.
In December 2013, representatives from UKTI in Washington DC visited Adam Smith International in London and met with its Managing Director and Strategic Director to discuss opportunities in the USA.
UKTI has since played a key role in helping the company to broaden its contact base and has provided guidance about how to navigate the procurement process.
Peter Young says,
DFID is our largest client, but there are many organisations out there funding similar work around the world and we wanted to access these opportunities.

When a donor gets a call about us from a British Embassy or Consulate, this assures them that we are credible. UKTI's introductions have been really useful.
Winning business with MCC
UKTI called Adam Smith International's attention to a MCC £8 million tender for a Blanket Purchase Agreement which was published on UKTI Business Opportunities website.
The tender covered potential projects in different sectors, including health, education, and infrastructure. It was not tied to any specific country. UKTI liaised with MCC on the company's behalf to check on the eligibility requirements. Adam Smith International's proposal was accepted and the company signed the agreement in May 2014.
Peter Young says,
Without UKTI, we would not have been aware of the MCC Blanket Purchase Agreement tender. It's a significant opportunity for us and we're looking forward to delivering projects through it.
Winning business with US Aid
Adam Smith International is fund manager for the Somalia Stability Fund. UKTI put them in touch with USAid who were running a project in Somalia. They were ultimately successful in winning new business with USAid.
Peter Young says,
UKTI in Washington connected us with procurement staff at USAid and helped us understand and manage requirements they had that we hadn't come across with other donors.
About Adam Smith International
Adam Smith International, headquartered in London, has a staff of 180 and an annual turnover of £105 million. It advises governments on what reforms are needed and how to achieve them. It also delivers the practical programmes to implement reforms.
Examples of the company's work include:
helping eastern European and the former Soviet Union states build functioning market economies and governance structures
helping deliver successful state enterprise reform in India
implementing tax reform in Afghanistan
improving the efficiency of public services provision in Iraq
updating infrastructure and power sectors in Nigeria
Adam Smith International opened its first regional corporate office in Delhi in 2002. It also has regional offices in Nairobi and Sydney, and a number of project offices around the world.
Fast facts
Company: Adam Smith International
Industry: International Development
Target market: Global
UKTI services: Introductions, Advice, Business Opportunities
Website: www.adamsmithinternational.com
Advice on exporting
Published 5 February 2015