Case study
£49 million worth joint research collaborations between UK-India
A series of visits and workshops over last 5 years led to £49 million worth joint research collaborations between UK and India in agricultural sciences and bioenergy.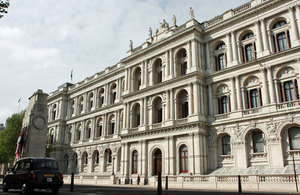 Over the last five years, the UK Science and Innovation (S&IN) organised and paid for two separate visits, organised three workshops focused on agricultural sciences research collaboration between UK and India.
Working with partners such as Research Councils UK (RCUK) India, Biotechnology and Biological Sciences Research Council (BBSRC), Department for International Development (DFID) and a consortium of Scottish research institutes, these contributed to four UK-India research calls worth £49 million and a £1 million research award for commercialisation of a vaccine for cattle and buffalo. These projects have led to the development of a new vaccine and are helping better understanding of pests and disease, improving crop yields, and thereby achieving global food security. In total, 34 joint research projects have come out of these joint calls.
Steve Visscher, Deputy Chief Executive & Chief Operating Officer, BBSRC on SIN's work on Sustainable Crop Production Research for International Development (SCPRID) said:
I would like to add my personal thanks for your (RCUKI and SIN) excellent help and support. I look forward to us building on the work of recent weeks and initiating strong collaborations with India, especially on food security.
Sukanya Kumar-Sinha, Deputy Director, RCUK India said:
It is always a pleasure to work with SIN India. I worked with Swati Saxena on all BBSRC initiatives with India. Her knowledge of the sectors, along with her insights into the Indian research landscape helped immensely in furthering our discussions with partners in India. Many thanks to SIN India for working seamlessly with RCUK India.
Duncan Maskell, Marks & Spencer Professor of Farm Animal Health, Food Science & Food Safety, Department of Veterinary Medicine, University of Cambridge (Livestock health workshop attendee) said:
……. thank you for organising an excellent workshop. Thanks especially to Swati for looking after us on the marathon trip to and from Bareilly!
After a successful visit of Director General (Crop Sciences) from the Indian Council of Agricultural Research (ICAR) to the UK, planned by the UK Science and Innovation (SIN) in 2009, a roundtable for crop science funders from the UK and India was organised by the team in the following year. This was organised to coincide with the visit of former Government Chief Scientific Advisor, Sir John Beddington, to Delhi. The roundtable led to India's involvement in the multilateral crop initiative, Sustainable Crop Production for International Development (SCPRID). In the following year the SCPRID call was launched which led to the funding of 11 projects worth £16 million which were led by UK researchers across South Asia and Sub-Saharan Africa.
Following a request by Scottish Development International, SIN facilitated the signing of a MoU between Moredun Research Institute, University of Glasgow and the Indian Veterinary Research Institute in early 2010 to develop a new vaccine to control Haemorrhagic septicaemica, which is a deadly disease in cattle and buffalo in India. SIN had good contacts with ICAR, developed through the previous visit, which helped with hastening the initiation of the joint research project. ICAR's approval is mandatory in getting into such MoUs.
The three year vaccine project, costing £1 million, was funded by a Wellcome Trust Translation Award which was designed to bridge the funding gap in the commercialisation of new technologies. This project led to the development of a new vaccine. The consortium included scientists from Moredun Research Institute (MRI), University of Glasgow and Indian Veterinary Research Institute (IVRI). The industry partners were Inocul8, GALVmed and Indian Immunologicals Ltd (IIL), who had the commercial experience required to get the new vaccine licensed and manufactured in India.
In February 2011, a senior delegation from BBSRC visited India. SIN and RCUK India organised a visit programme to National Centre for Biological Sciences and Indian Institute of Science in Bangalore, and National Institute of Plant Genome Research and DBT in New Delhi. BBSRC and DBT agreed on three joint areas for UK-India collaboration; biofuels, livestock and crop genomics. Using the Global Partnerships Fund (GPF), SIN funded the visit of a UK delegation to India and a workshop on bioenergy was organised in New Delhi jointly with RCUK India in October 2011. The Indian delegation was sponsored by Indian partners DBT. This workshop led to the launch of a £10 million joint research call by BBSRC and DBT on sustainable bioenergy and biofuels in November 2011. This brought both bioenergy research communities together to pursue four large research projects which aim to unlock the potential of new, advanced bioenergy and biofuel technologies that both countries need.
In February 2012 a second workshop, involving livestock researchers from both countries, was organised jointly by SIN and RCUK India in New Delhi. SIN paid for the travel and accommodation of the UK delegates, again using GPF and also helped organise a visit to IVRI in Rae Bareilly. This resulted in the launch of a joint call worth £13 million on farmed animal disease and health, with matched resources from BBSRC and DBT in the same year, awarding UK-India funding to 12 joint projects. These projects aim to provide a better understanding of disease prevention, detection and treatment of diseases among farmed animals thereby contributing to food security.
The 16 awardees for both these calls were announced during the visit of Sir Mark Walport, Government Chief Scientific Adviser, to New Delhi in November 2013. Finally, in May 2012 SIN and RCUK India co-ordinated the visit of Indian scientists and policy makers to Norwich for a BBSRC – DBT workshop on crop genomics. This resulted in a joint research call worth £10 million on crop genomics and technologies in March 2013. Seven new research projects from this research call were launched on 27 November 2014 to help provide new or improved crops for the future. This includes drought-tolerant tomatoes, improved wheat and grass pea.
Published 1 December 2014