If you're building a digital service, you'll need to provide a way for users to give you feedback on their experience of using it.
Example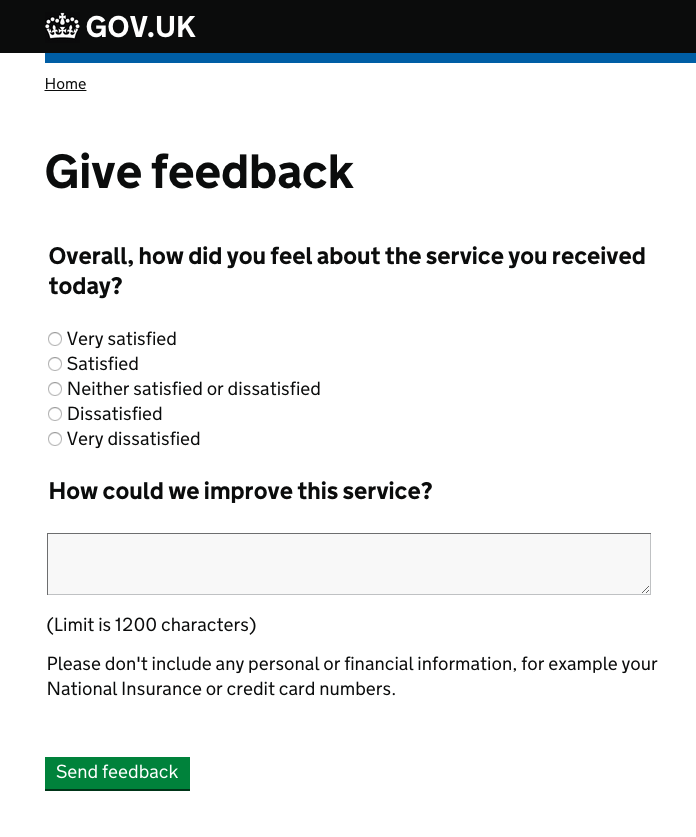 Why your service must have a feedback page
All public beta or live services must have a feedback page so you can collect comments and measure user satisfaction.
The page must be hosted on GOV.UK so satisfaction scores can be compared across services on the performance platform.
Get a feedback page
Contact your organisation's content team to get a feedback page on GOV.UK for your public beta or live service. They'll need to make a content request.
If your service is in alpha or private beta, you can create your own feedback page.
When to make your request
You should contact your organisation's content team to discuss your feedback page and start page at least 1 month before your beta assessment.
GOV.UK will only publish your feedback page when your service:
passes its beta assessment or self-certification
goes into public beta
Related guides
You may also find these guides useful:
Published by:

Last update:

Guidance first published