Guidance
LLWR Waste Services
LLW Repository Ltd (LLWR) provides a range of Waste Management Services to help customers manage their lower activity wastes at every stage of the Waste Hierarchy.
Our services provide effective solutions for lower activity waste management and include access to a dedicated customer team who will support customers in applying the waste hierarchy.
Guidance for the Management of Lower Active Waste (LAW) This high level guidance document provides initial insight to principles and standards for lower activity waste management to primarily support audit and assurance activities conducted by LLWR. Secondarily to facilitate further cross industry discussion to help raise standards in an effort to reduce risks, in particular that of waste mis-consignment.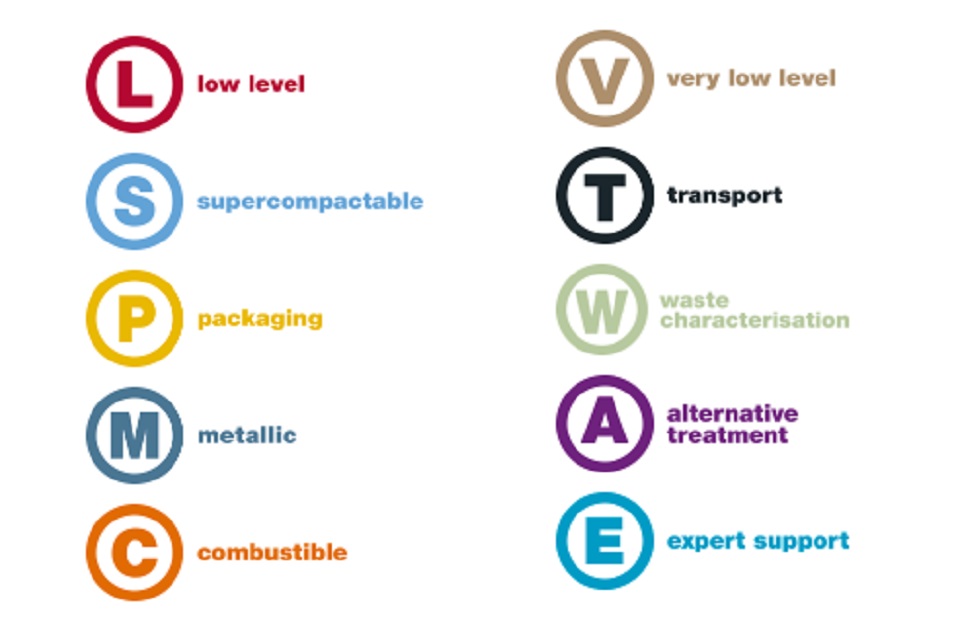 Low Level
Our Low Level Waste Disposal Service is for low level waste that cannot be treated, or residual wastes from a treatment process.
Waste is received at the LLWR site by rail or road in containers. Each container is filled with a cement based grout to remove any voids and the container is then disposed of in our engineered vault.
Waste Acceptance Criteria: Low Level Waste Disposal
Guidance on WAC Requirements for Complexants
Discrete Item Decision Summaries resource
Supercompactable
Our Supercompactable Waste Treatment Service minimises the volume of LLW to be disposed of at the LLWR site.
This waste is subject to high force compaction which reduces the overall volume by up to 70%.
We can receive waste for supercompaction in loose (bagged) or drummed form.
Waste Acceptance Criteria: Supercompactable Waste Treatment
Packaging
Having a supply of fit-for-purpose packages to support LLW transport is a key part of our waste treatment and disposal portfolio.
All packages are appropriately licensed for radioactive waste transport.
Our packaging fleet consists of multiple types of packages, including Industrial Package – Type 2 (IP2) rated versions suitable for road, rail and sea transport.
Our capability includes the development of bespoke packaging solutions to meet specific customer needs.
Our new Logistic Services brochure will inform Customers of the various packaging options and support services available from LLWR.
IAEA Licensed Packages and Transport Systems
We manage the entire lifecycle of all supplied package designs; from design, manufacturing, testing, licence management, with additional maintenance and engineering support for re-usable package designs.
All relevant documentation for each package design are prepared and managed by LLWR and available to customers:
IAEA Licensed Packages and Transport Systems documentation
Packaging Operational Support Guidance Documents
We have a suite of Packaging Guidance Notes covering a range of operational advice on the requirements for LLWR's fleet of IP-2 Containers.
Waste Loading Support and Standard Waste Loading Plans (SWLP)
All SWLPs comply with the guidance set out in the National Industry prepared Guidance Document – Transport Container Standardisation Committee (TCSC) 1006.
The Waste Loading Plan Information Form (WSC-FOR-WLP) can be downloaded from Section 6 of the Waste Acceptance Procedure.
Waste Loading Support and Standard Waste Loading Plans (SWLP)
Packaging Support Services and Stakeholder Workshops
We also offer the following Packaging Support Services:
Package inspection and leak testing service
Package repair assessment and full repair service
Damaged package retrieval service
Used container buy-back service
If you wish to use our Packaging Service please submit a request through LLWR e-Logistics
If you require assistance using e-Logistics please contact the Packaging Services Team.
Packaging Services Team
LLW Repository Ltd
Pelham House
Pelham Drive
Calderbridge
Cumbria
CA20 1DB
Metallic
Our Metallic Waste Treatment Service provides opportunities for our customers to recycle metallic waste whilst reducing the volumes of LLW disposed at the LLWR Site.
This is better for the environment, a more efficient use of resources, and gives Customers greater flexibility in how to manage low level radioactive waste.
We can use a range of techniques such as size reduction, shot-blasting, and melting to treat the metallic waste. Secondary waste arising from the process, such as shot blast media or slag from metal melting, will then be further treated or disposed of via the most appropriate route.
We have successfully treated:
carbon steel
stainless steel
aluminium
brass
copper
lead
other less common metals
In general we achieve up to 98% volume reduction of the original waste consigned.
Please contact the LLWR Customer Team for details on the Waste Acceptance Criteria for Metallic Waste Treatment.
Customer Team
LLW Repository Ltd
Pelham House
Pelham Drive
Calderbridge
Cumbria
CA20 1DB
Combustible Waste
Our Combustible Waste Treatment Service uses thermal treatment to reduce LLW disposal volumes.
This gives customers the potential for greater cost efficiencies and results in less waste being disposed of at the LLWR Site.
Having the option to treat combustible waste gives our customers greater flexibility in terms of how to manage LLW.
A wide variety of materials are suitable for thermal treatment and can reduce waste volumes disposed at the LLWR Site by up to 100%. The list of materials we can accept for thermal treatment is extensive, but most commonly includes:
paper and cardboard
packaging materials
plastic sheeting
wood
oil
protective clothing
Please contact the LLWR Customer Team for details on the Waste Acceptance Criteria for Combustible Waste Treatment.
Customer Team
LLW Repository Ltd
Pelham House
Pelham Drive
Calderbridge
Cumbria
CA20 1DB
Service Guidance: Combustible Waste
Very low level
Our Very Low Level Waste (VLLW) Disposal management service involves the disposal of high-volume low activity waste at appropriately licensed commercial hazardous waste landfill sites.
This type of lightly contaminated low risk waste does not require the same degree of engineered protection provided by the LLWR Site.
All organisations dealing with radioactive materials produce some waste fitting the definition of VLLW and this typically includes paper, cloth, plastics, wood, filters, rubble, soil and metals.
Please contact the LLWR Customer Team for details on the Waste Acceptance Criteria for VLLW Disposal.
Customer Team
LLW Repository Ltd
Pelham House
Pelham Drive
Calderbridge
Cumbria
CA20 1DB
PAA-GN06: VLLW/LA-LLW Guidance Note
Transport of LA-LLW/VLLW Questionnaire (MS Word Document, 186KB)
Very Low Level Waste Service Guidance (WSC-Guidance-V-001)
Transport
LLWR can offer a complete transport service including help and advice on all lower activity waste and dangerous goods transport matters.
The service includes transport and dangerous goods consignment services to support the waste treatment and disposal services offered through the Waste Services Contract. This can include transporting waste consignments to the LLWR Site or other facilities in the UK and internationally.
All transport and logistics services are in full compliance with the relevant National / International Transport Regulations. All waste consignments under the control of LLWR benefit from our membership of the nationally recognised Transport Emergency Arrangements scheme known as RADSAFE.
Road Transport Services
A framework agreement consisting of 5 Road Hauliers enables LLWR to provide a range of road transport services covering the UK and International destinations, an example of the equipment available is shown below.
2 or 3 axle Tractor Units (Euro standard 5 or above) rated and taxed up to 44te
Skeletal trailers (20' 30' 40' or/and Trombone Trailers)
Flatbed trailers (with rated tie down features for items)
Tautliner Trailers up to 40' (including Code XL and Multilock variants)
Side Loader Trailers
Specialist Vehicles STGO Cat 1 – 3
7.5te vehicles with Tail lifts with rated tie down anchor points
On-site transport service (shunting etc….)
Please note that this list is not exhaustive and LLWR work closely with hauliers and Customers to ensure that any transport needs can be met.
Integrated Transport Services
Working in partnership with Direct Rail Services, LLWR is able to offer a range of multi-modal transport solutions. Where a multi-modal service is identified DRS will co-ordinate all road elements of the service. DRS have a framework contact in place with 4 of the hauliers used by LLWR ensuring familiarity with customer sites and driver knowledge of Class 7 consignments.
Benefits of using the LLWR Transport Services
100% safety record (people)
Surveillance on carrier operations (as required)
Proven system for integrated transports
Proven system for Road and Sea transports
Optimised empty return mileage – currently 79% utilisation (December 2015 data)
innovation
Support for customers
Customers can submit enquiries for Transport Services (including Packaging Supply and ancillaries) using the e-Logistics transport management system.
Guidance Note PAA GN06 – Operational Quality Plan
Transport of LA-LLW/VLLW Questionnaire (MS Word Document, 186KB)
eLogistics Customer User Manual (PDF, 1.04MB, 16 pages)
Transport Team
LLW Repository Ltd
Pelham House
Pelham Drive
Calderbridge
Cumbria
CA20 1DB
Emergency Response – Out of Hours
LLWR Duty Manager: 07624 310577
LLWR Transport Emergency Officer: 07624 909768
Transport Emergency Contacts (DGSAs) – During Hours
Alison Fotheringham: 07528 988279
Laura Bell: 07817 969751
Barry Mellor: 07794 273816
Waste Characterisation
Our Waste Characterisation Service is an enabling service that allows customers to access advice, sample recovery, analysis, data interpretation, measurement and routing guidance for their waste.
This leads to a more robust underpinning of the assumptions, measurements and calculations required when producing Waste Characterisation documents needed to manage waste as out of scope or through treatment or disposal services.
The Characterisation Service provides the necessary information for Customers to correctly manage their low level waste in line with the Waste Hierarchy.
Waste Characterisation
LLW Repository Ltd
Pelham House
Pelham Drive
Calderbridge
Cumbria
CA20 1DB
Characterisation and Assurance Request Form (WSC-FOR-CSE V7) (MS Excel Spreadsheet, 369KB)
Alternative treatment
Our Alternative Treatment Service allows customers to access a range of treatment solutions for more challenging and problematic wastes.
This service can be used to identify and evaluate different treatment/technology options, or implementation of the most appropriate new treatment solution. The advice and expert knowledge is provided by experienced project managers with a technology-independent perspective.
Expert support
Expert Support is a framework that provides professional services and project management support for all waste management activities.
The support may be in the form of planning or project support over and above the absorption ability of internal resources, and may include characterization support, BPEO studies, BAT assessments and other desk top studies and advice on waste handling.
Waste Acceptance Procedure
LLW Repository Ltd's (LLWR) Waste Acceptance Procedure (WAP) details how waste must be consigned to LLWR or its service providers under the Waste Services Contract.
Waste Acceptance Procedure documentation
Service Pricing
LLW Repository Ltd's (LLWR) Service Pricing Schedule comprises the Service Price List and the Service Price Template.
Waste Services Contract
We provide customers with a range of Characterisation, Logistics and Waste Services through an agreed common contractual arrangement. This contract is known as the Waste Services Contract and was introduced on 1st April 2010 and it will be in place until 31st March 2020.
Waste Service Contract documentation
New Customers
Further information for new LLWR customers.
Customer Notices
We publish Customer Notices which provide key information and updates to customers.
Published 12 April 2012
Last updated 18 December 2018
+ show all updates
Removal of Waste Acceptance Criteria documents for Metallic Waste Treatment, Combustible Waste Treatment and Very Low Level Waste Disposal.
LLWR Logistic Services Brochure uploaded.
First published.