Artículo
¿Qué es el TTIP?
This was published under the 2010 to 2015 Conservative and Liberal Democrat coalition government
El Acuerdo Transatlántico de Libre Comercio e Inversión (TTIP, por sus siglas en inglés) es un acuerdo de libre comercio que están negociando la Unión Europea y Estados Unidos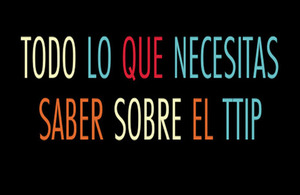 Las negociaciones comenzaron en julio de 2013. Los representantes de la UE y de EE.UU. se reunirán de manera alterna en Bruselas y en Washington. El Gobierno del Reino Unido está trabajando junto a la Comisión Europea en estas negociaciones.
Este acuerdo comercial podría suponer 10.000 millones de libras más para la economía del Reino Unido al:
Reducir los aranceles transfronterizos entre la UE y EE.UU.
Eliminar otras barreras al comercio (por ejemplo, reduciendo diferencias innecesarias respecto a requisitos técnicos y regulatorios, sin rebajar la protección).
Eliminar algunas de estas barreras y gastos comerciales debería facilitar el acceso a ambos mercados por parte de las empresas europeas y norteamericanas. Para los consumidores, significará más productos donde elegir y precios más bajos.
Ventajas para el consumidor
Nos proponemos cerrar un TTIP ambicioso que:
Reduzca los precios para los consumidores europeos (al reducir los costes del comercio y eliminar los aranceles de importación, entre otros de algunos productos norteamericanos muy populares).
Facilite las compras a Estados Unidos, haciendo que sean más fiables.
Proporcione a los consumidores mayor seguridad cuando compren de vendedores norteamericanos.
Ventajas para las empresas
Existen ventajas para empresas de todo tamaño. El TTIP podría facilitar y abaratar las exportaciones al:
Ahorro para las empresas europeas (las empresas británicas pagan cada año más de 1.000 millones de dólares a Estados Unidos en aranceles).
Reducir los gastos duplicados, dado que las empresas tienen que cumplir tanto los estándares europeos y norteamericanos para preservar el mismo nivel alto de protección.
Darle a las empresas europeas acceso a un mercado con más de 300 millones de consumidores norteamericanos.
Artículos sobre el TTIP:
Document information
Published: 4 febrero 2015