Artículo
Reino Unido, a la vanguardia en servicios de tecnología financiera
This was published under the 2010 to 2015 Conservative and Liberal Democrat coalition government
La Agencia de Promoción Comercial e Inversión del Reino Unido, UK Trade & Investment publica un informe de las oportunidades del mercado en el sector de servicios de tecnología financiera (fintech)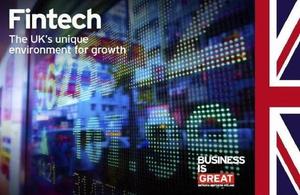 La publicación Fintech: The UK's Unique Environment for Growth recoge un análisis de por qué el Reino Unido constituye un sitio único para las empresas especializadas en tecnología aplicada al sector de servicios financieros
Sue Langley, Directora Ejecutiva de la Organización de Servicios Financieros de UKTI, comentó:
El Reino Unido rápidamente se está convirtiendo en un destino de elección para cualquier empresa del sector fintech. El Gobierno Británico tiene el compromiso de apoyar a las empresas fintech. Esta nueva publicación articula la oportunidad de mercado única del Reino Unido y deja en claro por qué las empresas fintech deben de establecerse en el Reino Unido.
UKTI también publica investigaciones independientes que sugieren que el valor del mercado fintech en el Reino Unido alcanza £20 mil millones en pagos, plataformas, software y analítica de datos.
De la investigación realizada por EY (Ernst & Young), a petición de UKTI, tras entrevistar a un grupo de inversionistas, representa gráficamente el dinamismo y las oportunidades del sector fintech en el Reino Unido.
Innovate Finance, un nuevo organismo comercial industrial
Estos informes se hicieron públicos simultáneamente a la presentación del nuevo organismo comercial del sector, Innovate Finance, por parte del Ministro de Finanzas (Chancellor of the Exchequer), Rt Hon George Osborne MP en Level39.
Innovate Finance es una nueva organización industrial que tiene como objetivo acelerar la posición de liderazgo del Reino Unido en el sector global de los servicios financieros. Este organismo apoyará a jóvenes innovadores o a los ya establecidos en el sector de tecnología dirigida a los servicios financieros.
El crecimiento del mercado fintech
El Reino Unido y la región de Irlanda son los lugares de más rápido crecimiento para las inversiones en fintech a nivel global. Desde 2008, el valor de la inversión en fintech en la región se ha incrementado casi 8 veces, para llegar a US$265 millones en 2013.
El empuje del Reino Unido en el sector fintech obedece a:
La posición de Londres como centro de servicios financieros líder en el mundo
Edimburgo, Belfast, Leeds, Manchester, Birmingham y Cardiff son sede de fuertes sectores de servicios financieros
Buena disponibilidad de capital de negocios
Una estructura regulatoria que promueve al sector
Para más información contactar con uktimadrid@fco.gov.uk
Document information
Published: 19 agosto 2014