Artículo
¿Tienes una idea innovadora? Ponla en marcha en el Reino Unido
Si posees un título universitario y una idea brillante para establecer un negocio, ¡el Programa Sirius te puede ayudar a hacerla realidad!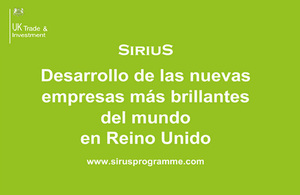 La fase dos del Programa Sirius está abierta hasta el 30 de junio. El programa, que lidera el Departamento gubernamental UK Trade & Investment, se repite tras el éxito de la primera fase.
El programa busca jóvenes titulados con talento de todo el mundo, y ha recibido un apoyo continuado de grandes personalidades como Lord Bilimoria –fundador de Cobra beer, Roberta Lucca –co fundador de los estudios Bossa, y Gerard Grech –CEO the Tech City en Reino Unido.
Más de 700 equipos de más de 93 países se registraron en la primera fase del Programa Sirius, que invita a talentos empresariales con ideas innovadoras a establecerse en el Reino Unido. Del total de aspirantes, más de 40 equipos se recolocarán en el Reino Unido antes del verano.
Alessio Bortone explica en este video cómo el Programa Sirius puede ayudar a estudiantes universitarios de último año o recién graduados a lanzar sus negocios en el Reino Unido.
El Programa Sirius de 12 meses se desarrolla con los candidatos seleccionados establecidos en los distintos aceleradores del programa: Accelerator Academy, London; Entrepreneurial Spark, Glasgow; The Bakery, London; Oxygen Accelerator, Birmingham and Ignite 100, Newcastle-upon-Tyne. Estas organizaciones son el esqueleto del programa, acogen a los equipos, les apoyan y les ayudan a crecer y prosperar. Les proporcionan mentores, un espacio de trabajo y talleres profesionales. Además, el programa ayuda a conseguir clientes, conseguir financiación y conseguir negocio.
Los candidatos seleccionados en el Programa Sirius tendrán acceso al enorme potencial que ofrece el entorno empresarial del Reino Unido. Otra de las ventajas de establecerse en el Reino Unido es el acceso al principal mercado europeo de capital riesgo y a los 500 millones de clientes en Europa.
Wibbu, craedores de "Wibbu English" fueron seleccionados en la anterior edición del programa. Se trata de una nueva aplicación para móvil dirigida a españoles e hispanohablantes, para que puedan aprender o mejorar su inglés a partir de los errores más comunes. Sígueles en @wibbuenglish
Si tienes esa gran idea, regístrate ya en la web del Programa Sirius o sigue el programa en twitter @SiriusProgramme
Published 26 mayo 2014