Notícia - Artigo
Concurso fotográfico "We Are Falklands"
This was published under the 2010 to 2015 Conservative and Liberal Democrat coalition government
Que tal ver suas fotos em uma exposição em Londres e em um roadshow pelo Reino Unido?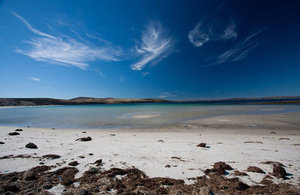 O Governo das Ilhas Falklands recebe até o dia 28 de março inscrições para o concurso fotográfico "We Are Falklands" (Somos Falklands). A competição, realizada para promover as paisagens, a vida selvagem, a história e a comunidade do arquipélago, vai selecionar imagens para uma fazer parte de uma exposição em Londres e do roadshow Falklands Experience, que percorrerá diversas cidades do Reino Unido ainda em 2014.
São cinco categorias diferentes - vida selvagem, paisagens, herança, vida na ilha e pessoas - e qualquer pessoa pode participar do concurso fotográfico com imagens feitas nas Ilhas Falklands. Cada participante pode inscrever o máximo de cinco fotos por categoria e de quinze fotos no total, sendo que a inscrição completa será considerada um portfólio.
Confira os " Termos e Condições (PDF, 2MB, 2 pages) " e conheça as regras, requisitos e dicas para participar do concurso.
Boa sorte!