Artículo
¡Wenlock y Mandeville buscan dónde estudiar en México!
Se convoca a alumnos de preparatoria a participar en la dinámica organizada por la Embajada Británica para adoptarlos como alumnos de su escuela.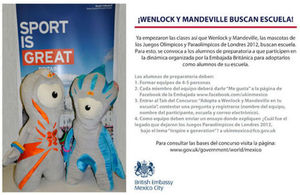 Ya empezaron las clases, así que Wenlock y Mendeville, las mascotas de los Juegos Olímpicos y Paraolímpicos de Londres 2012, buscan escuela. Para esto, se convoca a los alumnos de preparatoria a que participen en la dinámica organizada por la Embajada Británica para adoptarlos como alumnos de su escuela.
Los alumnos de preparatoria deben:
Formar equipos de 4-5 personas
Cada miembro del equipo deberá darle "Me gusta" a la página de Facebook de la Embajada y
Entrar al Tab del Concurso: "Adopta a Wenlock y Mandeville en tu escuela", contestar una pregunta y registrarse (nombre del equipo, nombre del participante, escuela y correo electrónico).
Como equipo debe enviar un ensayo donde expliquen ¿Cuál fue el legado que dejaron los Juegos Paraolímpicos de Londres 2012, bajo el lema "Inspire a generation"? a ukinmexico@fco.gov.uk
Los ensayos deben tener una extensión máxima de 600 palabras y ser enviados a más tardar el 3 de septiembre a las 10 am. El mejor ensayo será elegido por un jurado integrado por personal de la Embajada, se calificará que éste refleje los valores que promueve el Comité Paralímpico para lograr una sociedad más equitativa. El equipo ganador será contactado por correo electrónico.
Se entregará a Wenlock y Mandeville a la escuela y al equipo ganador en una ceremonia oficial del legado de "Londres 2012" el 5 de septiembre a las 9:00 hrs en el Monumento a la Revolución. Ahí mismo con autoridades de la Embajada, el Gobierno del DF y la organización "Ojos que sienten" se llevará a cabo una carrera "a ciegas" con el objetivo de crear empatía y entendimiento, especialmente entre gente joven, sobre las dificultades que personas con discapacidad visual enfrentan diariamente en la Ciudad de México. ¡Manos a la obra!, Wenlock y Mandeville serán los nuevos alumnos de la escuela donde los alumnos demuestren su calidad humana, valores y entusiasmo por un mundo con más inclusión.
Published 13 agosto 2013
Last updated 28 agosto 2013
+ show all updates
The date of the event changed.
Changed the pictures
First published.