2014 Overseas Territories Joint Ministerial Council
(Archived)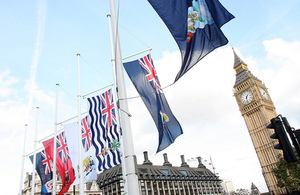 The annual Overseas Territories Joint Ministerial Council (JMC) brings together political leaders from the Overseas Territories and UK ministers. It met this year in London from 1 to 4 December and was hosted by FCO Minister for the Overseas Territories James Duddridge MP.
The JMC is the principle forum for reviewing and implementing the shared strategy for promoting the security and good governance of the Territories and their sustainable economic and social development.
The Joint Ministerial Council closed today with the agreement of a joint communiqué which sets out priority issues.
Read the progress reports from the 2013 Joint Ministerial Council
5 December 2014
Worldwide news story