Speech
Secretary of State for Scotland speech at NFU Scotland's Centenary AGM
The Secretary of State for Scotland, Michael Moore speaks about the UK Government's record of delivery for Scotland's farmers.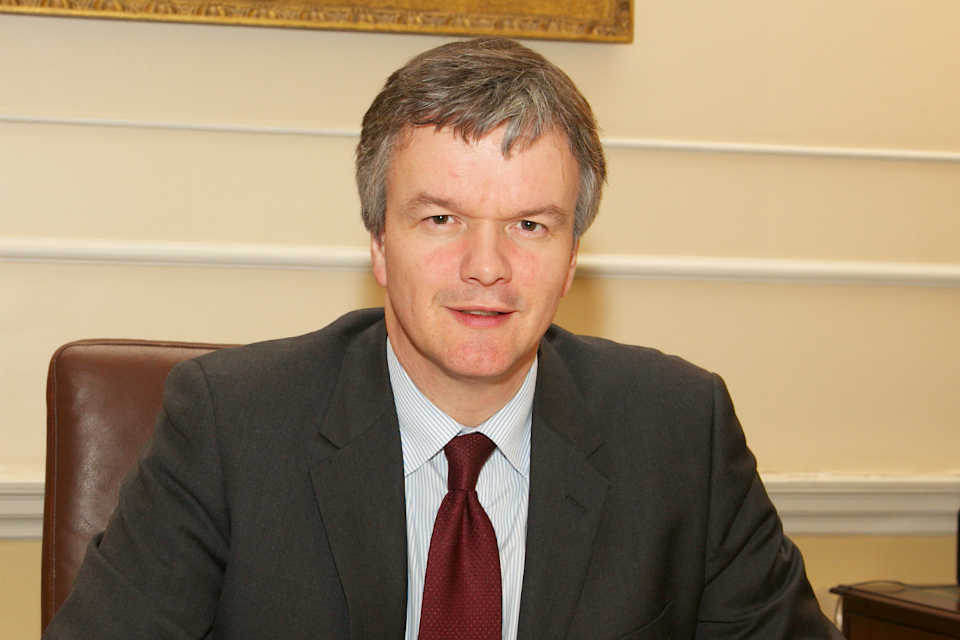 Thank you for inviting me to speak.
It is an honour to attend this centenary event both in a personal capacity and in my official role as Secretary of State for Scotland.
As a Borders MP living in the heart of one of Scotland's most tight-knit and productive farming communities, I am well aware that the rural economy is the lifeblood of our country.
Across Scotland there is a rich tapestry of people, working hard to keep our countryside active and thriving.
The needs of rural communities and the rural economy have been central to my roles as an MP and as Secretary of State for Scotland.
Since becoming an MP I think I've attended around 50 agricultural shows. And I have the unexpected claim to fame of being the first Secretary of State for a generation to attend the Royal Highland Show every single year, come rain or shine. Usually the former.
All of that complements the many visits to farms and farm businesses that I enjoy as I travel around Scotland. I am looking forward to visiting Jim McLaren's farm in Perthshire next week.
These engagements are among those that I value most. As a Borderer they mean a huge amount to me personally.
And they are essential for understanding the challenges faced on a day to day basis by those who live and work in rural Scotland.
And – believe me - if I were ever to lose sight of this, my near neighbour Nigel Miller would be very quick to get me back on track!
It was a pleasure to visit Stagehall this time last year with Caroline Spelman and I'm sure there's an open invitation to Owen Paterson as well.
As you will be aware, Owen is giving an Urgent Statement to the House on the horsemeat situation.
Over the course of the past century, the NFUS has performed an exemplary role in representing the industry's interests tenaciously to me and to many others.
Your union puts in an extraordinary amount of effort on b behalf of farmers and the whole of rural Scotland. I am delighted to be here today to acknowledge that publicly.
Without wishing to outshine the NFUS' one hundred years, I'd also like to note another recent milestone in my own constituency.
Just a few weeks ago, we in the Borders celebrated an incredible 200 years since a group of farmers on both sides of the Tweed met to create a society to drive through improvements in local farming, the Border Union Agricultural Society.
I raise this to make the point that Scottish agriculture has been the backbone of our community for a very long time.
The value of the industry coming together through organisations such as the NFUS to work towards common goals is enduring over the years.
And for me, this demonstrates the truly historic place that farming has had in our communities over many centuries.
There is simply no other industry that can match this pedigree.
But whilst this is an industry steeped in history – yours is also an industry that looks to the future.
And – in my opinion – there is simply no other industry that is striving harder to adapt and compete on a global scale.
Although the word "globalisation" is a recent one, the concept of international competition is not new to Scottish farmers. But the scale and intensity of the challenges have certainly changed.
A century ago Scotland was leading the way in trade in agricultural commodities.
But when the NFUS was founded a hundred years past, farming was arguably a much simpler industry.
Producers did not have to deal with the complexity of the international market forces at play today that are the reality of your daily lives.
New technology, free trade and open markets are vital for growth but, as you know only too well, they don't always make our lives simpler.
Never mind that, the founding fathers (and mothers!) of the NFUS did not have the multiple layers of government influencing their revenue – from single farm payments to rural development funding and more.
Today the world is your marketplace. And I recognise it is a tough one. But it is one where we can and must succeed.
Exports are leading the economic recovery of the country – and food and drink exports are driving the growth of the agricultural industry.
In 2011, Scotland's food and drink industry exports hit an all-time high of £5.4 Billion.
It is now no exaggeration to say that the whole world recognises the quality of the food and drink that we produce.
When we think of many of Scotland's iconic success stories - Scotch Whisky – using our finest barley and grain - Scotch Beef, Scotch Lamb and our dairy products - these are by-words for quality.
And it's not just overseas buyers, but also the food halls at our agricultural shows are teeming with people from all walks of life, wanting a taste of what's best.
It is no surprise that the best of Scottish agriculture supplies the very best of restaurants and the finest dining - right across the world.
But Scottish agriculture is not immune from the global financial crisis, rising fuel and other input prices and other macroeconomic difficulties worldwide. Quite the opposite, it affects everything you do.
Worrying questions have been raised over the content of some processed products, and it is vital that we get an accurate picture of the scale of the problem as soon as possible.
However I would emphasise that consumers can have confidence in the Scotch beef label as a guarantor of quality, under farm-assured schemes.
Aside from this ongoing situation, there is more generally] we, as a Government, are committed to doing what we can to support Scottish rural communities to weather the economic storm.
To use our international influence to boost exports and to effect change in Europe.
I want to highlight our policies, over the last three years, that have delivered real benefits to people in rural communities.
And make clear that in delivering now – even in these toughest of times – the UK Government is committed to ensuring a bright future for rural Scotland.
In my view, too few politicians in recent years have focussed on the needs, and established a record of delivery.
But I have been determined to ensure that this government is different.
As a Liberal Democrat I am from a party which has strong roots in rural Scotland.
We govern not just for the central belt of Scotland but the furthest reaches of it too.
And everywhere in between.
What has this meant in practice?
UK Government support
Firstly, the economy is our primary focus.
We are committed to getting the whole country back to stable economic growth and cutting the deficit.
But in doing so, the Liberal Democrat priority is to focus help where it is needed most.
That's why we are committed to deliver fairer taxation. I am proud that this Government has raised the point at which people start to pay tax on earnings from £6,475 when we came into office to £9440 today. Almost a £3000 increase in cash terms.
In low wage, low income parts of our rural economy, that is vital.
Across the country, it means that by next April 183,000 people in Scotland will have been removed from the tax system under this Government. And over 2 million people in Scotland will receive an income tax cut.
Cost of living is a huge issue across the country. And rising fuel prices are a complex part of that problem – and one that the Government has taken action to address.
Most people living in rural areas rely on cars to get around, to do the shopping and to get their children to school.
For people in Scotland's countryside, the car is a necessity not a luxury.
And we all know that when the price at the pump goes up, the challenge is acute. Not just to motorists, but everyone using vehicles to keep the rural economy going.
This government has recognised the effect that rising prices can have on an already stretched budget.
This is why we have cancelled the planned fuel duty rises left behind by the last government.
In total the actions that Coalition has taken - scrapping the planned fuel duty increase and introducing the Rural Duty Rebate Scheme - have saved the typical motorist at least £100 a year.
For the typical haulier this figure is £3,100 per year.
In fact, the price of fuel under this government is 13p per litre lower than it would have been under the previous government.
Of course fuel remains costly, especially when times are tight, but despite the pressures on government to raise revenue, we have cut the cost at the pump where others had planned to raise it.
In the Scotland Office we are keen to keep focussed on this issue of fuel prices. Last week my colleague David Mundell met local interested parties and the Office of Fair Trading to examine the impact of the rural fuel duty rebate and analyse the need for an extension of the scheme to other remote parts of the UK.
We are also taking steps to support the wider infrastructure of our rural communities.
One simple, yet vital, institution that we have protected is the rural Post Office.
The previous government's post office closure programme hit our communities hard –
Striking at the heart of our towns and villages.
Where post offices close, local people must travel further to access the services they need, and often, to meet the people they know,
Those who do not understand rural Scotland will never appreciate the way in which its amenities are the spine of its communities.
But this government does.
One of the first commitments of the Coalition Government was to end the closure programme.
We have committed to £1 billion of new investment, and we are ensuring that the Network is modernised to meet the needs of customers and be sustainable for the future.
Since we brought that programme to an end, not one post office in Scotland has shut through compulsory closure.
And that is how it should be.
But it's not just the Post Office that we are keen to support.
We want to make sure that modern technology is accessible to our rural communities, as well as to our urban ones.
The UK Government has allocated £100m to Scotland for rural broadband - which will be delivered through the Scottish Government.
Broadband provides a key lifeline for businesses and individuals.
Communities throughout Scotland should feel the benefit of it.
From the Borders to the Highlands & Islands, rural Scotland has previously been left behind in the race to improve internet access and speeds.
This money will help local businesses to grow and prosper.
For farmers, it means ease of ordering, contracting and supplying in your professional lives.
The UK Government is doing what we can to help our rural communities stay connected both digitally and by traditional means.
And in challenging economic times, initiatives like these are essential to spur on the economy and create jobs in rural areas.
We have found the funding but progress needs to be made on roll-out on the ground by the Scottish Government. I urge the Scottish Government to get on with delivering the goods.
Turning to rural policy in particular, I do not wish to go into detail on the major issues that I know David [Heath] will be covering shortly. But I would like to take the opportunity to touch on a few areas that are particularly close to my heart.
In my view, over the past few years, the relationship between producers, processors and big supermarkets has dominated much of the discourse.
And I am clear that the UK Government should play its part in supporting a strong, healthy, competitive and fair relationship.
A few landmark policies stand out.
I believe strongly that the Dairy Code of Practice to ensure contracts between farmers and dairy processors must be fair and transparent. It must deliver for all involved.
Getting to this point has not been an easy process by any stretch of the imagination.
Nor is it intended as a silver bullet to resolve all disputes over pricing.
But I believe that, if the Industry Code of Practice can be made to work effectively, this offers a sustainable way to effect change with the processors.
I am delighted to recognise and applaud the efforts of Nigel Miller and all at the NFUS for brokering this agreement and who continue to work extremely hard to ensure that it is fully respected.
We are committed to doing likewise and we are watching the evolution of practice under the Code very carefully indeed.
In a similar vein, I am proud of the establishment of a UK Groceries Code Adjudicator.
Brought forward by my Liberal Democrat colleagues Vince Cable and Jo Swinson in the Department for Business, Innovation and Skills, the Bill will provide a strong legislative underpinning for this role and its powers.
The legislation is currently at Report Stage in the House of Commons and, pending Royal Assent later this year, an Adjudicator-Designate Christine Tacon has now been appointed to the role.
Christine – who lives on a farm in Macclesfield - has an impressive career history working with producers and retailers alike, including Mars, Anchor and an 11-year stint running the Co-operative Group's farming business – the largest in the UK.
Christine and I discussed the challenges last week – in particular how important it will be for her role to make a positive difference, and I have been very impressed both by her grasp of the challenges and the enthusiasm that she has for the task ahead.
We will continue to work energetically and carefully to finalise the legislation, but I am confident that Christine will be a valuable addition to the farming world and I look forward to welcoming her to Scotland very soon.
I hope that the farming world will welcome the appointment of an Adjudicator as a statement of our firm commitment to ensuring farmers are treated fairly.
This role must be made to work, and I hope that you will engage with us to ensure that it does.
Constitutional debate – best of both worlds
Finally, I am sure you would be surprised if I stood here before you today and didn't mention the debate that is unfolding over the future of Scotland.
It's fair to say that the independence question occupies quite a bit of my time and I would like to give you my perspective on how this debate touches on the farming community.
You also won't be surprised to hear me say that I believe that Scotland's farmers are better off as part of the UK. With devolution as part of a strong UK, Scotland has the best of both worlds.
Much of farming and agricultural policy that affects Scotland is the responsibility of the devolved Scottish Government.
This allows tailored solutions for Scottish farming with greater flexibility to address the particular challenges that we face here.
But this doesn't happen in a vacuum.
This ability to deliver local solutions and promote the Scotland "brand" is underpinned by the pooled strength of the wider UK economy.
And it is projected around the world thanks to our global political and economic influence.
Let's take Europe as an example.
It is hard to imagine an industry with a more obvious vested interest in our country's ability to negotiate strong deals in Europe than yours.
As part of the UK, Scotland's farming community is able to draw on the collective bargaining power of the whole of the UK when it comes to EU negotiations – fighting for your interests as part of one of the largest EU Member States.
Pushing for simplification of the CAP.
Greater flexibility and regionalisation.
And a measured transition from historic to area based payments.
David will return to this hugely important issue in his remarks shortly but I can assure you that we are working very closely on this.
Of course there are negotiating challenges and, at times, tension among devolved administrations on our negotiating position.
But we have a strong commitment to consensus – and we should always come together to form a strong, united position with greater impact that we would on our own.
Together we are greater than the sum of our parts.
The Scottish Government has avoided giving answers on how this would be affected by independence and the EU question in particular.
We want to bring some clarity to the debate.
Today the UK Government published a paper on the legal position of an independent Scotland, severing its ties with the UK family, and going it alone.
That paper is based on expert legal opinion from leading international lawyers.
In the interests of an informed and accurate debate we have published the opinion as well as the paper.
And it couldn't be clearer.
If Scotland separated from the United Kingdom, the UK would be the continuing state, inheriting the institutions of the state and membership of international organisations.
Scotland, as a new, separate, successor state, would go it alone and start from scratch.
In short, the UK would still be in the EU.
But Scotland's membership would require successful renegotiation.
New terms of membership would be required. And in the here and now we know neither what terms the Scottish Government would seek, nor what terms twenty seven other member states would be prepared to agree.
Those who want Scotland to move outside the UK, but fight its way into the European Union are duty-bound to spell out their negotiating position, and just how they would achieve it.
And there is a lot at stake for this union – for your sector.
When it comes to the Common Agricultural Policy, do those who support independence also support the policy as it stands and Scotland's current share?
If they seek to change it, what precise changes are they seeking?
And crucially, what guarantees can they offer not only that they could secure a better deal, but that they could avoid having a poorer one foisted upon them as the price of EU membership?
More recent members of the European Union did not get the initial CAP deal that they might have wanted.
So you have every right to ask the Scottish Government why every member state will now make exceptions for them.
Everyone here will have their own opinion on the constitutional debate.
Our future must not be decided on the basis of assertion, but rather in light of facts – the plain, unvarnished, evidential truth.
Of course it would not just be the CAP that would be up for negotiation.
As part of the UK, Scottish companies exporting overseas can draw on support from a diplomatic network of 270 posts in 170 countries – support that has helped open up massive markets for Scottish goods in difficult markets to enter such as China and Russia.
Fighting to remove commercial barriers and using our influence at every level to ensure that our companies can compete on a level playing field.
And fighting to ensure that other countries respect the quality and origins of our produce.
The UK has used the pooled strength of our influence overseas and larger consumer market, to secure geographical indication protections for our produce.
And in the worst times, this has included tough negotiations to lift bans on imports following crises in the industry.
Being a strong, proud and unique nation within a strong United Kingdom makes sense in good times as well as the bad.
But - closer to home - it is not just on the international stage that Scotland benefits from being part of the United Kingdom.
Being part of a single domestic market has supported trade between Scotland and the rest of the UK.
54 per cent of meat processing produced in Scotland is sold to the rest of the UK.
59 per cent of grain milling and starch produced in Scotland is sold to the rest of the UK.
We know that when countries separate, they can adopt very different tax and regulatory regimes.
We know that different tax and regulatory regimes lead to decreased cross-border trade.
And we know that is in the interests neither of this sector nor for Scotland more broadly.
The way to guarantee the strength and the support of United Kingdom is to stay within the United Kingdom.
In my view – Scottish farming, like Scotland as a whole, has the best of both worlds.
Over the coming months and years of the constitutional debate and other policy debates, I am sure that the union and all of you will play an active part to ask the right questions.
And so you should.
You should ask both sides of the debate the hard questions that get to the heart of the issue.
For my part, I relish that challenge.
Thanks to NFUS
But more immediately, I also delight in being able to be here with the NFUS on this special occasion.
Throughout the last one hundred years Scottish farmers have weathered much and succeeded greatly.
It is easy for many city dwellers to miss the contribution made by your sector to the daily lives of each and every one of us.
The food we eat; the milk we drink; the environment we enjoy.
Published 11 February 2013