Speech
Independence referendum: Energy Scotland analysis paper speech
Scottish Secretary's speech from the launch of the latest Scotland analysis paper on energy.
There are now fewer than six months to go until people across Scotland make the most important collective decision we will ever take: whether to remain an integral part of the United Kingdom or to leave and become a separate independent state
The closer we get to the 18th September, the more engaged we all are with the referendum. And there are several issues which are really crucial to this debate:
the currency that we would use
our EU membership
of course, the impact on costs of everyday essentials such as mortgage payments and household bills.
And on the final point, today's analysis examining the impact on independence on energy bills for our households and businesses will be of vital significance to this debate.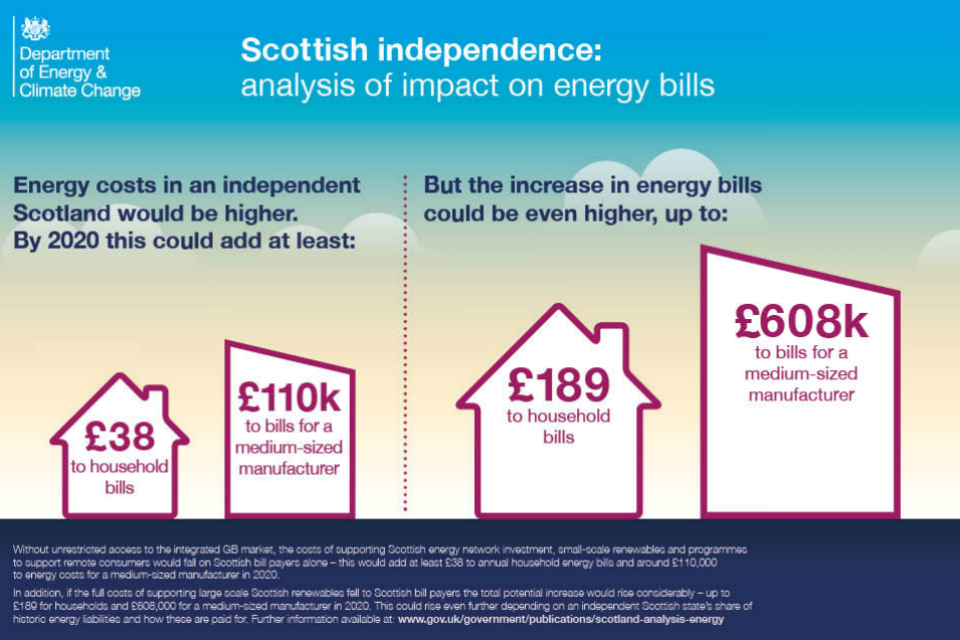 Natural resources in Scotland
In Scotland we are blessed with simply remarkable natural resources. So it is unsurprising that energy has acquired such a symbolic, central part of the independence debate.
As MP for Orkney and Shetland, I can tell you first hand that, from the first discovery of hydrocarbons in the North Sea 40 years ago through to realising the potential of our renewable energy resources today, Scotland has always held great pride in our ability to power the nation.
The North Sea oil and gas industry has been an important part of our economy for the past 40 years and one which supports thousands of jobs in Scotland and across the UK.
But our energy sector does not just rely on gas or North Sea oil. We are now taking huge strides in the renewable energy market – with wind power becoming an established part of the energy mix and a focus on development of offshore wind and marine renewables.
There are many exciting developments in this sector which I know very well from activity going on around my own constituency.
The European Marine Energy Centre at Orkney is one of the finest examples of how Scotland is leading the world in exploiting the potential of our seas.
Natural resources – benefits of being part of UK
The First Minister and I can agree on one thing at least. Like Mr Salmond, I firmly believe that Scotland can, should and – with the right support - will be an energy powerhouse. But where we disagree is on the most effective way to achieve this vision.
Having natural resources is not enough. In order to maximise the benefits you have to be able to invest, extract and export.
And being part of the UK helps us exploit these natural resources to their fullest potential.
Let's look at North Sea oil. The UK Continental Shelf is now a maturing basin, competing with other basins with less challenging environments. The fiscal regime that we operate is crucial to incentivise the investment that is required to maintain the life of the North Sea.
Following the Wood Review, the UK Government and industry are working together to figure out the best ways to maximise recovery. At Budget 2014 we announced a package of measures to help incentivise investment in the North Sea and keep recovery flowing. The UK Government already provides big tax incentives to support extraction and has now provided certainty on decommissioning relief worth £20 billion.
Fiscal incentives on this scale are only made possible through the size and diversity of the UK tax base. And these incentives from the UK taxpayer are delivering jobs and investment here in Scotland.
Turning to renewables, the imperative is to reduce our reliance on fossil fuels and move towards a low carbon economy – but without over-burdening consumers who incentivise the shift to renewables.
And Scotland currently benefits from a very high amount of consumer support for our low-carbon energy.
Let's be clear - the Scottish Government's renewable energy and electricity targets are more likely to be met as part of the UK, with greater investment and costs spread over 30 million households and businesses.
We will continue to benefit from our natural resources as part of the UK – taking advantage of the UK's broad shoulders to:
provide financial security when oil revenues prove volatile
spread costs over a large single domestic market
and provide UK Government investment to create an attractive sector for companies to invest in.
Energy bills
It is not just the Scottish economy that sees these benefits – we all do. And being part of a large GB-wide market helps all of us in Scotland realise lower energy bills.
Yes, there is much debate around the costs of energy bills to consumers in Great Britain; but one thing is for certain - as part of the GB market our energy bills are lower than they would be in an independent Scotland. Costs are spread evenly right across England, Scotland and Wales.
For example, the costs of transmitting electricity and gas are shared so that households in rural and remote communities do not pay higher bills. And remember; a large customer base creates more competition in the energy market – which ultimately means a better deal for Scottish bill payers.
It is simple fact is that an independent Scotland would not realise the benefits of this large consumer base.
Conclusion
If I could just provide you with an analogy. I see the benefits that we gain from being part of the UK as very similar to a light switch. It may look simple and easy-to-use from the outside, but behind the switch is a very complicated electrical circuit. Behind the GB energy market is a complex system drawing on our combined tax base and consumer base aimed at meeting our energy needs in a way that is more secure, cleaner and more cost-effective.
Going forward, I envisage a positive future for us as part of the UK. A positive future deploying our superb natural resources - oil, gas, wind, wave and tidal energy - to fuel our energy needs right across the UK.
A positive future for our Scottish-based energy industry – the investment it receives and the jobs it supports. From our oil hubs in Aberdeen and Shetland, to our renewables potential on and off our coastline, to the high tech jobs in the energy field in Glasgow, Perth, Edinburgh and elsewhere.
And a positive future for the cost of energy bills - spread evenly across a market of 30 million people, helping to meet our energy targets and keep the lights on right across Scotland.
Published 9 April 2014