Written statement to Parliament
Future fuel poverty framework: target, strategy and advisory group
Written Ministerial Statement by Edward Davey on the future fuel poverty framework.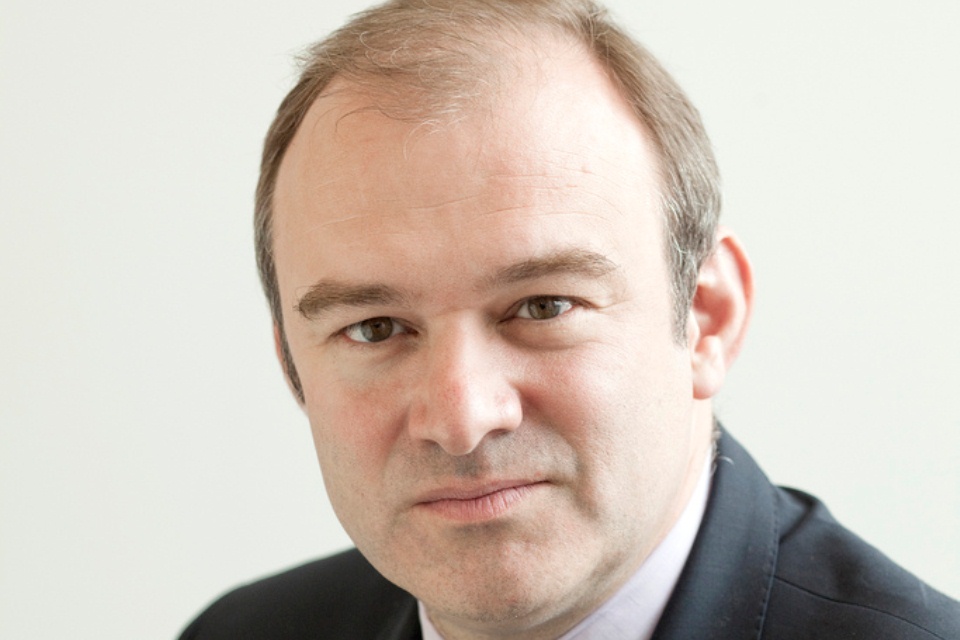 Since 2010 the number of households in fuel poverty in England has fallen every year, thanks to government energy efficiency schemes and the Warm Home Discount. However, the problem could rise again unless action is taken to tackle it.
In a package of announcements made today, the government is setting out how it intends to act - taking the next major step forward in overhauling the framework to tackle fuel poverty in England.
We are laying draft Regulations before Parliament to put in place a new long term fuel poverty target. We have also launched Cutting the cost of keeping warm – a consultation helping us to prepare a new fuel poverty strategy to set out how we intend to achieve the target. In addition, DECC is publishing a report with the results of the first Triennial Review of the Fuel Poverty Advisory Group for England (FPAG) a copy of which I will be depositing in the Libraries of the House.
This package builds on a three-year period of detailed work on fuel poverty, which has changed our understanding of the problem and how we need to tackle it. This has included the independent Hills Poverty Review published in March 2012, a Framework for Future Action on Fuel Poverty published in July 2013 and amendments made to the Warm Homes and Energy Conservation Act 2000 (WHECA) last year.
Fuel poverty target
The Fuel Poverty (England) Regulations 2014 set out the objective for addressing the situation of persons in England who live in fuel poverty, as required by section 1A of WHECA. The Regulations will create in law a new fuel poverty target to ensure that as many fuel poor homes as is reasonably practicable achieve a minimum energy efficiency standard of Band C, by 2030.
I am also proposing to set out the following interim milestones in the new fuel poverty strategy:
as many fuel poor homes in England as is reasonably practicable to Band E by 2020
as many fuel poor homes in England as is reasonably practicable to Band D by 2025
This target and the proposed interim milestones imply improving the energy efficiency standards of a significant number of households. In turn, this will mean a real change to these households' living standards by reducing their fuel poverty gaps or removing them from fuel poverty altogether. Meeting the target will be a major challenge - not just for government but for all those working to tackling this issue.
Consultation
The consultation Cutting the cost of keeping warm seeks to explain how we will implement policy in a way that reflects our framework principles. This means trying to help those with the highest energy costs first and foremost, driving cost effective interventions and supporting those most vulnerable to the effects of living in a cold home. We seek views on how we can improve the design and delivery of policy in order to try and meet the target. This focuses on four themes:
Warmer Homes: cutting bills and increasing comfort in the coldest low income homes to make a real and lasting difference with energy efficiency
Supporting People: helping people directly with their energy bills and improving incomes
Fairer Energy Markets: ensuring everyone can take action and benefit from a more open energy market
Improving Delivery: making the most of the support available, getting it to the right people, and working together to support the fuel poor
The combination of a long-term target and a strategy setting out our plans for achieving it will help ensure that the fuel poor are not left behind as we meet our wider climate change obligations. At the same time, taking action to tackle fuel poverty will bring wider benefits, supporting jobs, saving carbon and improving health.
Governance and accountability
Meeting long-term targets requires effective governance and accountability. We are proposing regular reviews of progress and we intend to hold regular debates in Parliament on this issue.
For some time, the Fuel Poverty Advisory Group for England (FPAG), a DECC-sponsored advisory Non-Departmental Public Body (NDPB), has been a key part of the accountability framework. Today, we are publishing the results of our first Triennial Review Report of FPAG. This confirms FPAG's critical role in scrutinising our strategy to keep us on track towards our target. But it also highlights there are opportunities to bring FPAG more in line with the best practice corporate governance standards for NDPBs.
We will be working with the current Chairman, Derek Lickorish MBE, to implement these governance reforms over the coming months. This includes transitioning FPAG's composition from organisational representatives to independent expert members
Published 22 July 2014