Speech
Baroness Neville-Rolfe's speech at the AURIL conference
Baroness Neville-Rolfe launches Lambert 2 at the AURIL conference in Edinburgh.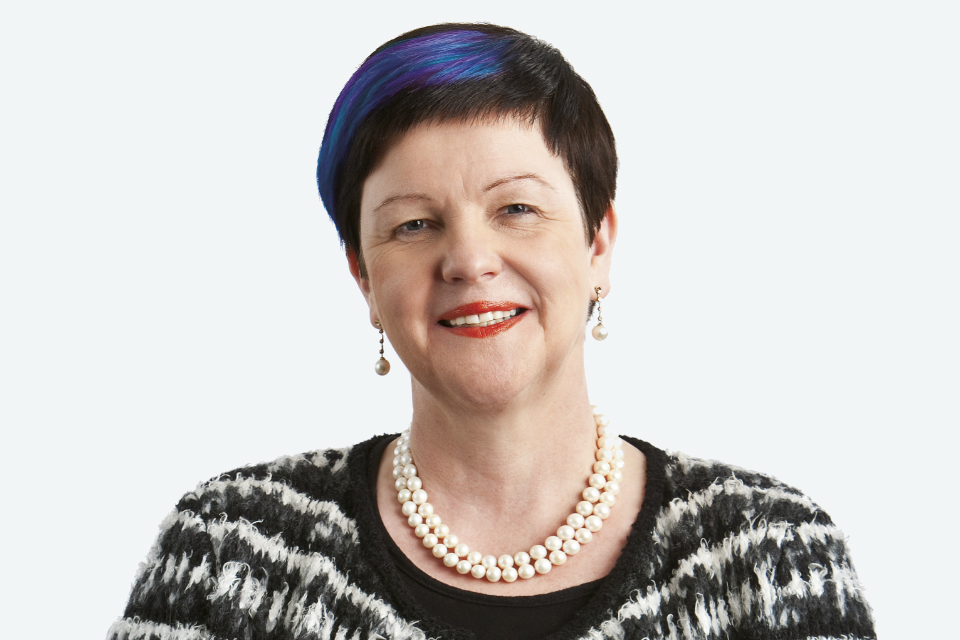 Good morning everyone. Thank you for inviting me to join you today for this cross UK event organised by Association for University Research and Industry Links (AURIL) who do such important work to further university-business links. As I discovered the I in AURIL standards for Industry.
You all play such an important role in realising the benefits that knowledge exchange can have on the local, regional and national economy, and for that I thank you.
Each AURIL conference is an opportunity for the very best involved in the knowledge exchange community to share ideas, updates and discoveries, so there could be no better place to introduce the new Lambert Toolkit.
Only yesterday I was in Birmingham, and later I will be in London again. In August I was in China where they are very interested in the idea of a Minister for IP.
Once upon a time this kind of travel would have been slow and complicated, but in the 21st Century it's so easy that many of us take it for granted; at lunch I can decide that I want to be in Scotland, and I can be here by tea. We are more connected now than we have ever been before.
Just this week we've seen what can happen when Scottish and English parts of the UK work together, with British scientists from Bearsden, Aberdeen and London sharing this year's Nobel Prize in Physics. Their work on superconductors could even lead directly to still faster travel in the future, and I know we all congratulate David Thouless, Duncan Haldane and Michael Kosterlitz for their success.
But there's another good reason for me to be standing here today. Because I was recently appointed as Scotland's local growth champion in the Department of Business, Energy, and Industrial Strategy.
It's something I'm very proud of, and, I think, for good reason.
We can all see a country linked by transport, but too often that is where our connections end.
This government is committed to seeing the benefits of economic growth throughout the entire United Kingdom.
It's a commitment based on helping people and businesses to reach their full potential, wherever they are, and it's a commitment which the Secretary of State, Greg Clark, reiterated this week.
To help achieve this, each Minister in the Department for Business, Energy and Industrial Strategy (BEIS) has become a local growth champion.
This role allows me to focus on the incredible strengths of Scottish industries, and I will be working with organisations across Scotland to spread this growth and connect government policy with business and industries.
We want to rebalance the economy by building on the unique capacities and capabilities found across the country - investing in manufacturing and energy in the Midlands and technologies like cyber security in the West Country.
It is this targeted approach which will do the most to ensure we strengthen every part of the UK. Our successes will depend on identifying our strengths, assessing where investment can make the greatest impact, and using this investment to upgrade our economy.
And one of our biggest strengths is our Science and innovation. On average, we get a 20% rate of return on investment from the sector. It's fantastically productive, and it's one of the cornerstones on which our future will be built. That's why I'm here at AURIL today – to improve the conditions surrounding IP, research and innovation so that they can all flourish, now and in years to come.
This is where Science and Innovation Audits (SIAs) come in.
SIAs will identify and validate our local strengths across the UK, provide evidence to help underpin future investment decisions, foster local collaboration and strengthen future bids for local investment.
They involve combining "state-of-the-art" data science approaches with an "on-the-ground" view based on local data, local knowledge and local experience, to gain insight into an area's strength in science and innovation.
To achieve this, last year the government invited the first group of consortia – consisting of universities, research and innovation organizations, Local Enterprise Partners and their equivalents in the Devolved Administrations, and businesses – to shine a light on the science and innovation strengths of their areas.
In March 2016 we announced the successful consortia in the first wave of SIAs. These are:
Edinburgh and the Lothians City region
Greater Manchester and East Cheshire
Sheffield City Region and Lancashire
The Midlands Engine, and
South West England and South East Wales
These SIAs were chosen because they represented a cross section of sizes, geographies, places and approaches. The Edinburgh and Lothians City Region's focus is on Data-Driven Innovation, which I am very pleased about because of the expertise here, and the consortium includes institutions like The Data Lab, Scottish Enterprise, and the University of Edinburgh – where I met Vice Chancellor Sir Tim O'Shea last night.
These first five SIAs are expected to be published in the coming months, each mapping their regions and contributing to a more complete picture. A second call for expressions of interest was launched in July 2016 and closed on 5 September, and successful consortia will be announced this autumn, before a further round runs in November.
As is so often the case in research, collaboration breeds remarkable success. This is just as true with SIAs as it is with Higher Education Institutions and business.
UK universities make a huge difference to the economy and to society as a whole. The contribution made by the universities within the N8 Research Partnership alone is striking, with over £6.6 billion of gross value added each year to the economy, attracting £1.26 billion research funding per year.
On top of this, the Higher Education, Business and Community Interaction (HEBCI) Survey over 2014 to 2015 found that:
the value of collaborative research has increased by almost 10% to £1.26 billion
IP Income across all sectors has increased by 18.5% to £155.4 million and just over 30% to £13.8 million for Small and Medium Enterprises
"Research collaboration with industry" is the most reported contribution Higher Education Institutions make to economic development
These numbers are indicative of great successes, and they make the value of collaboration clear. But they are only a glimpse of what we might achieve. To go further, we have to harness the combined productivity of our industries and universities.
Many of the UK's strengths are in sectors that tend to require investment in ideas rather than machines, and the knowledge economy has been critical to business success. That's why, just a few days ago, the Chancellor Philip Hammond announced £220 million of support for innovation, including £120 million to give further support and incentives to university and business collaborations to support successful tech transfer.
Every year since 2001, investment in intangible assets has outstripped investment in tangible assets. In 2014 the UK market invested £121 billion in physical assets, compared to £133 billion in knowledge assets, over half of which was protected by IP rights.
This kind of support encourages investment in new technology, adding new products and services to the economy. We must therefore target our efforts to ensure that the benefits of the IP system are maximised and shared more widely.
The government recognises that to make our vision for the UK economy a reality we must give space and support to new ideas. We are committed to:
providing incentives for businesses
removing barriers to innovation; and
supporting collaboration across sectors
This is where the Lambert Toolkit which we're launching today can make a world of difference.
It's a simple idea, the Toolkit is a set of model agreements and guidelines which make university and business collaboration easier.
These models give their users a clear path through the often complicated world of IP collaboration. In its way, the toolkit is a means of navigation.
Since 2005, following Richard Lambert's review, these model agreements have been used to, reduce the complexity, time and money it takes to agree deals on IP-creating projects between businesses and researchers.
One such example is ACAL Energy in Cheshire, a chemical company specialising in ingenious clean energy systems. Eight years ago ACAL was simply two people with a business plan.
The toolkit showed ACAL ways to work with a host of universities, including Chester, Birmingham, Liverpool and Newcastle, developing their catalysts for the next generation of fuel cells. To date they have received £1.3 million in grant support from Innovate UK, raised £16 million in venture capital, and employ 32 people.
It's a remarkable success in so few years. But in the 21st century a lot can change in a short space of time. Just as an 11 year old map will become outdated, so it is important to update the toolkit to meet today's demands, and I am extremely grateful to those involved in its upgrade.
The new toolkit helps deal with new challenges and adds new guidelines for scenarios including the entry of an additional party into an existing project, and the use of collaborative results for academic and research purposes.
It adds further clauses on data protection, and in depth explanations of universities' duties as charitable organisations and how this affects state aid.
The 2016 Lambert Toolkit is more robust than its predecessor. It is a more complete map. And I'm sure its impact will be even greater.
Later today we will be talking in more detail, so I urge you to engage in the conversation, and to spread your understanding throughout your institutions.
Alone, the Lambert Toolkit is very useful. But if we can make innovation a real priority across the sector, we can make an even greater change.
The Higher Education and Research Bill, which is being taken forward by my colleague Jo Johnson, will bring our Higher Education system up to date and placing innovation at its heart.
Through the bill, we will see students empowered through the creation of the Office for Students: a new market regulator with the explicit legal duty to encourage competition and promote choice, quality and value for money.
We will see new providers entering the market, creating more opportunities and places at universities, so that anyone who wants to further their education can.
We will see universities evaluated and funded on the quality of their teaching and the opportunities that their qualification brings as well as the exchange of ideas.
And we will see a single, strategic voice for the UK's research and innovation sector. The establishment of UK Research and Innovation (UKRI) will deliver on Sir Paul Nurse's recommendations to set up a single research funding body.
This will keep the UK leading the way in multi-disciplinary research, making sure the government's £6 billion a year research and innovation investment is value for money.
UKRI will also integrate Innovate UK, helping businesses and researchers to make the right partnerships, based on insight and expertise.
It is essential that the Office for Students and UKRI work together to ensure that the links between research and teaching – and cross-institution work to promote civic, social and economic impact – are properly reflected in policy.
These changes are all designed to bring our system into the 21st Century. As the inventors, creative minds and innovators of tomorrow, it is critical that we equip students with the knowledge and skills to fully exploit their ideas.
Central to this is having the ability to manage their intellectual assets effectively. This is critical in maximising the impact of UK knowledge exchange and commercialisation – the next generation of researchers are at the heart of making this happen.
And yet we start from a disadvantaged position. A recent study by the IP Awareness Network found that only a third of students have heard IP referred to in their time in education.
More must be done to provide IP knowledge and skills to those just starting their careers in research, so that they can successfully navigate the knowledge exchange and commercialisation process.
It seems obvious to say, but it bears emphasis: those who have the ideas should know how to realise them.
The Lambert toolkit should be the first resource for anyone looking to do that. But we must do more. Alongside this map we must teach people how to navigate.
The Intellectual Property Office has a comprehensive range of educational tools to help, including tools for lecturers and students on key subjects. But we recognise that more can be done to educate and inspire tomorrow's innovators to discover the true value of their IP.
We are committed to empowering people to manage IP effectively and with confidence. This is particularly true for students and graduates. We want to bridge the gap between academia and commercial avenues. This is key to unlocking the potential impact of UK innovation.
It is also integral to our Industrial Strategy. If we are to see a truly inventive, evolving country, then we need new ideas to succeed, so that our economy can nurture new business and industries to become the household names of tomorrow.
I know that many of you are as passionate as I am on this topic and I am keen that we work together to make a real positive change.
My department also remains responsible for research policy, but you will know that the Department for Education is now in charge of Higher Education.
This may sound complicated, but it makes good sense. It signals a closer relationship between the two departments, and with Jo Johnson working across both we can ensure a very coherent approach.
Of course, I'm sure many of you are wondering what the landscape will look like after Brexit. We are at an early stage in our negotiations with Europe, so there are many questions I cannot yet answer. But some I can.
The Chancellor recently provided a guarantee of future EU funding to universities and businesses. Any organisation bidding for European Commission funding should continue to do so while the UK remains a member of the EU. Payments will be underwritten by the Treasury, even for projects which carry on past our departure from the EU.
UK students have the freedom to study in another EU country, and any wishing to do so will find it just as easy as ever.
By the same token, UK universities and their students and staff from EU countries will not see any immediate changes. Students currently eligible to receive funding from the Student Loans Company will continue to do so for courses they are currently enrolled on.
British universities have an incredible history. People all over the globe flock to them, and they continue to be ranked among the world's best. The government has no intention of letting that slip. Our job is to create the environment in which universities, students and businesses can all thrive.
In that environment, the updated Lambert toolkit is an essential map – a guide so that all parties can get where they want to go in the way that best suits them.
Part of the university's job is to set its students on the right path. It is not their job to railroad them into the next stage in life, but it is important to show graduates what the world has to offer them.
By giving them the tools to navigate this world, you can ensure that the only limit to your students' future success is their ambition. Show them what the world has to offer, give them the means to embrace it, and they will show you what it can become.
Thank you.
Published 11 October 2016