Promotional material
Why overseas companies should set up in the UK
Updated 19 February 2017
This promotional material was withdrawn on
This page has been withdrawn because it's out of date. For more up to date information, visit great.gov.uk.
© Crown copyright 2017
This publication is licensed under the terms of the Open Government Licence v3.0 except where otherwise stated. To view this licence, visit nationalarchives.gov.uk/doc/open-government-licence/version/3 or write to the Information Policy Team, The National Archives, Kew, London TW9 4DU, or email: psi@nationalarchives.gsi.gov.uk.
Where we have identified any third party copyright information you will need to obtain permission from the copyright holders concerned.
This publication is available at https://www.gov.uk/government/publications/why-overseas-companies-should-set-up-in-the-uk/why-overseas-companies-should-set-up-in-the-uk
1.

The number 1 destination for inward investment in Europe

Why companies invest in the UK

More companies locate their businesses in the UK than anywhere else in Europe.

International companies locate to the UK because they want to:
access new or existing customers
develop new products
find new suppliers and partners
do more business in other countries across Europe
Companies based in the UK can reach more than 500 million consumers across Europe.
You don't pay any duties when importing or exporting within the European Union (EU). The UK also has free or preferential trade agreements with many non-EU countries.
It's also easier to do business in the UK than any other major European economy1.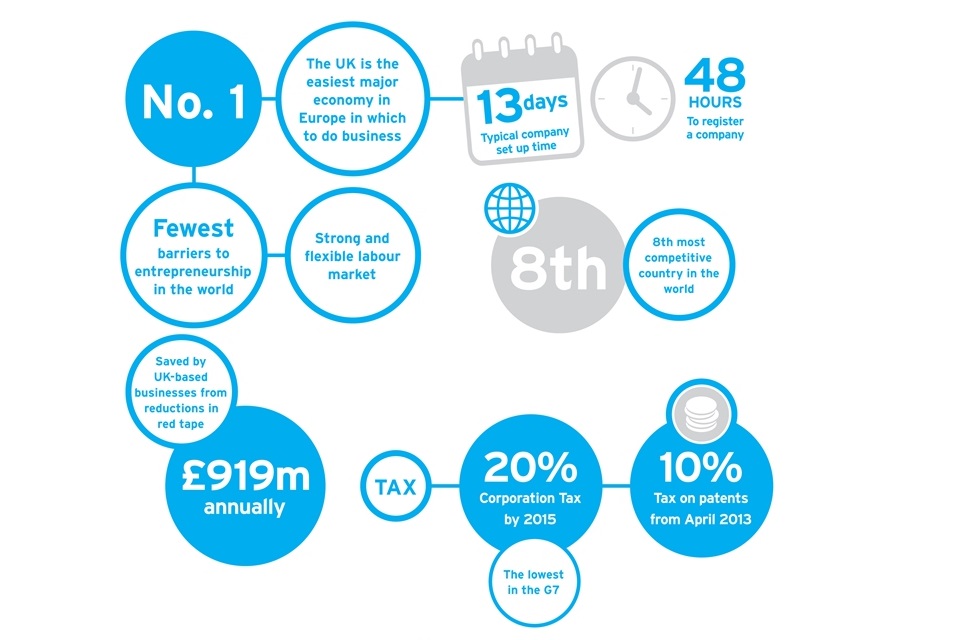 2.

What international businesses say about the UK
2.1

Five big international investors talk about why the UK is a great place to do business.
3.

Opportunities in different industries

Find out about the opportunities for investment in specific sectors including:
4.

Tax in the UK
4.1

20% Corporation Tax rate

The current rate of Corporation Tax is 20%. This is the joint lowest in the G20 - the world's largest 20 economies.

The UK has double taxation agreements through treaties with other countries. Most UK based companies will not pay Corporation Tax on foreign dividends.
4.2

Indirect taxation

Value Added Tax (VAT) is payable on most goods and services supplied in the UK.

The current VAT rate is 20%.

Goods imported or purchased may also have VAT.

A company has to charge VAT when its taxable turnover is above a certain threshold.
4.3

Research and Development (R&D) tax credits

Tax credits are available for companies involved in R&D. These companies pay a lower rate of Corporation Tax.

Companies may get a 100% deduction of Corporation Tax on work related to R&D.

Large companies can get a further deduction from their taxable income which is 30% of their current spending on qualifying R&D.

SMEs can get a further deduction from their taxable income of 125% of their current spending on qualifying R&D.
4.4

Patent Box

Companies can apply a lower rate of Corporation Tax of 10% on profits earned after 1 April 2013 from patented inventions and certain innovations.

You can only benefit from the Patent Box if your company pays Corporation Tax and makes a profit from exploiting patented inventions.

Your company must also
own or exclusively license-in the patents
have undertaken qualifying development on them
5.

Skills and recruitment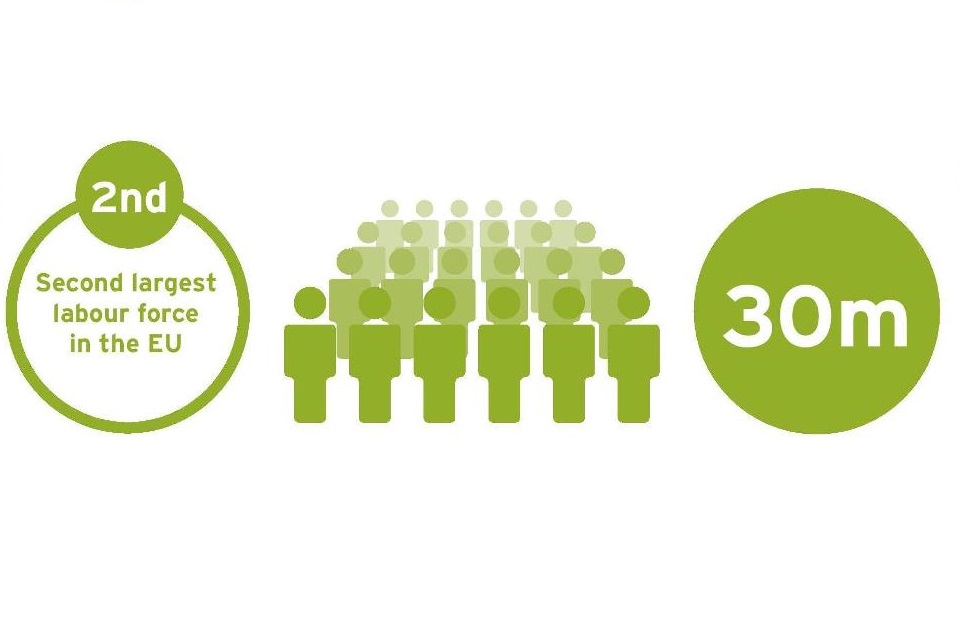 The UK has a workforce of over 30 million people. This is the 2nd largest in the EU.
We're one of a few European countries expected to have labour supply growth in the next 15 years2.
The UK has:
a workforce with strong skills
a flexible labour market
regulations designed to protect employees
Our flexible labour laws mean companies can employ staff in a way that suits the needs of their businesses.
Labour costs in the UK are the most competitive in Western Europe. helped by low employer social security contributions.
The UK's overall cost of labour is lower than countries such as France, Ireland, Netherlands and Germany3.
If you're looking to hire, the Jobcentre Plus network can help. It provides a free service that includes advice on:
recruitment methods and procedures
availability of suitable applicants
advertising jobs
filling vacancies
employing people with disabilities
6.

Getting help from the Department for International Trade

The Department for International Trade can help overseas companies looking to locate or invest in the UK by offering a number of free services. Help includes:
identifying market opportunities in the UK and Europe
providing access and introductions to the right people
setting up in the UK
market research
selecting the best location
tax advice
ongoing government support after establishing yourself in UK
applying for visas and entry to the UK
finding staff
support for entrepreneurs
The Department for International Trade can provide overseas companies and investors with more information about locating businesses in the UK.
7.

Infrastructure development in the UK

Having a strong infrastructure is important to help businesses grow.

There are big infrastructure projects in:
energy
transport
waste
flood
science
water
telecommunications
7.1

Transport improvements

A £120 billion investment programme is helping to improve our transport systems.

The UK already has the:
2nd largest ports industry in Europe4

largest air transport system in Europe5

most improved rail network in the EU6
We have a 7 year investment programme to improve our roads so it's easy to move goods and people in and out of the UK.
Our major rail projects include:
Crossrail
The new high frequency railway that will bring an extra 1.5 million people to within a 45 minute commuting distance of central London.
High Speed 2
A high-speed railway that will link eight of Britain's ten largest cities, serving one in 5 of the population.
8.

Entrepreneurs and graduates

The UK welcomes entrepreneurs and those wanting to set up their own businesses.

You may be eligible for support through our entrepreneur programmes. These are:
9.

Exporting from the UK

Locate your business in the UK and you can benefit from the same support to increase exports as UK companies.
10.

Finding a location for your business

You can rent or purchase commercial and industrial premises in most areas of the UK.

Some business activities require specific planning approval and can be restricted to allocated areas.

If you need to build or extend premises, the planning process is simple.

The World Bank say the process for obtaining construction permits and planning permission in the UK is one of the easiest in the EU and better than Switzerland, the Netherlands, France and Ireland7.
10.1

Enterprise zones

Enterprise zones are locations across the UK that offer companies incentives to locate their businesses in those areas.

Incentives include:
reduced taxes
simpler planning rules
financial benefits
Many Enterprise Zones have employment clusters, where businesses from the same sector are located in the same areas.
More information about the Enterprise Zones across England , Wales and Scotland
11.

Registering a business in the UK

You must register with Companies House, if you're setting up a business in the UK.

There are regulations on the use of business names. Some sectors such as finance, defence and oil exploration may need licences or permissions.

If you want to form a new limited company in the UK, you need to register with Companies House. It costs £20 and it takes about 24 hours.

Partnerships and unincorporated bodies can't register as an overseas company in the UK.
12.

Visas and migration

The UK has different visas depending on your circumstances. These include visas for:
13.

Financial support

Businesses can access grants and tax allowances in the UK. These provide financial help for research and development work and investment in business.
13.1

Funding opportunities

Businesses in the UK may be eligible for national and EU funding help including:
government grants
finance and loans
business support
start-up or SME (small and medium-sized enterprise) funding
13.2

UK Regional Growth Funding

The Regional Growth Fund supports projects and programmes that are using private sector investment to create economic growth and jobs in different areas of the UK.
13.3

Business angels

Business angels are individuals or groups that are able to provide capital for start-ups or early stage businesses.

Angel investors use their personal finance, business or professional experience to invest in the growth of a small businesses.
13.4

Private equity and venture capital

Private equity firms sometimes take majority stakes in companies that have potential for high growth.

Venture capital firms make equity investments in businesses with high growth potential. These companies are often in the seed, start-up or early stages of development.
13.5

Grants

Grants are money given to individuals or business for a specific purpose or project.

You often have to meet specific criteria. This can include:
location of the person applying
how it will be spent
the difference it will make
13.6

Start-up loans

Businesses less than 12 months old can get help to arrange start-up loans.

The British Business Bank can help entrepreneurs who can't get funding from banks.

This is a government backed economic development bank managing £3.9 billion of UK government funds to create efficient and smaller business-friendly finance markets.

Working with over 70 partners, the British Business Bank uses government funding and targeted guarantees to encourage the private sector to increase lending and investment.

25,000 UK-based businesses were benefiting from business bank solutions at the end of 2013.
14.

Intellectual Property Rights (IPR)

The Intellectual Property Office (IPO) handles International IPR agreements.
14.1

Patents and trademarks

A patent protects inventions and includes:
how things work
what they do
how they do it
what they're made of
how they're made
A trademark is a sign that can distinguish the goods and services of one business from another business.
Trademarks can be:
words
logos
pictures
sounds
There are 45 types (class) of business activity in the UK under which a trademark can be registered.
Registering a trademark costs:
£170 online
£200 for a paper application
£50 extra for each type of business activity added to an application
Businesses can make application themselves or use a trademark adviser.
14.2

Copyright

You don't need to register for copyright in the UK. An item becomes copyright when it's written down or recorded. This covers:
art
broadcasts
computer programmes
databases
films
literature
music
photography
technical drawings
websites
Your copyright work is protected abroad in the same way it's protected in the UK.
14.3

Design

Design describes the appearance or look of manufactured products.

There are 2 types of protection in law:
Registered: The UK Intellectual Property Office and other international bodies examine designs and registers for a fee
Unregistered: Design rights are automatic but offers less protection
14.4

Sector specific regulations

There are specific regulations and protections in certain specialist sector areas. IPR can be complex here and companies should get professional advice.