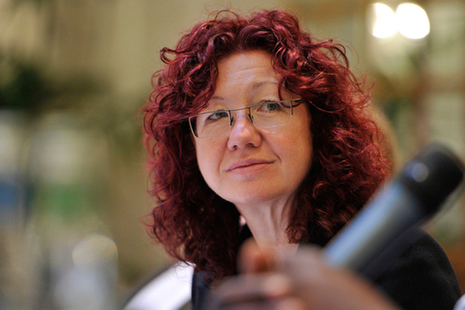 Biography
Professor Selina Stead is Head of the Institute of Aquaculture at the University of Stirling and the UK Government's Chief Scientific Advisor for the Marine Management Organisation.
Prof Stead's dual career in academia and government started in 1992 with a CASE PhD in Zoology, completed at the University of Aberdeen and the Scottish Government's Fisheries and Aquaculture Laboratory. Selina studied how environmental changes impact the growth and behaviour of Atlantic salmon, Salmo salar. This advanced earlier research on feeding physiology of sharks, which later extended to haddock, sea cucumbers, seaweed, tilapia and trout. She was appointed Chair of the Scottish Government's Marine Science Advisory Board and was the Ministerial Appointed Scientific Advisor to the North Eastern Sea Fisheries Committee.
Selina has held several high-profile positions including President of the European Aquaculture Society where she received the organisation's highest honour, the Distinguished Services Award. This was for notable contributions to global food security using systems thinking to link aquaculture, fisheries, marine protected areas, integrated coastal management, marine policy and governance to better contribute to the United Nation's Sustainable Development Goals. She continues to be active in field-based research in East Africa and the Indian Ocean, publishing widely on marine ecosystems and human interactions. Selina has been assigned to advise governments on Blue Economy open innovation strategies and science diplomacy. Prof Stead has led an international team of scientists in advising the Seychelles Government on its plans to introduce mariculture as its third economic pillar balancing economic development of fisheries and tourism.
Previously, Selina was Professor of Marine Governance and Environmental Science at Newcastle University. She held leadership roles including Dean of Postgraduate Research, Director of Research, Deputy Head of School and Public Orator. There she specialised in tropical marine resource management, especially investigating how human interactions impact coral reefs health and socio-economic drivers influencing rule-breaking in marine protected areas.
After her PhD, Selina became Director for Aquaculture (Department of Agricultural Economics) where she led a BSc programme and managed a finfish hatchery. Thereafter, Selina was the Director for Marine Resource Management (Department of Land Economy), also at the University of Aberdeen and responsible for its transformation into an interdisciplinary centre promoting boundary crossing research and education between science and policy. For the first time, the Royal Institution of Chartered Surveyors accredited interdisciplinary degree programmes in marine science and management. She has supervised over 20 PhD students from more than 10 countries.
Chief Scientific Advisor, MMO
Evidence, data and technical advice are required for Marine Management Organisation (MMO) operational functions. These can consist of:
quality assuring evidence presented by licence applicants
peer reviewing licensing advice provided by advisors or applicants
acquiring or procuring new data or information assets to underpin MMO decisions
providing technical advice on a range of topics to support MMO functions
commissioning research or technical advice for marine planning, licensing, conservation enforcement and fisheries management