General Sir Mark Carleton-Smith KCB CBE ADC Gen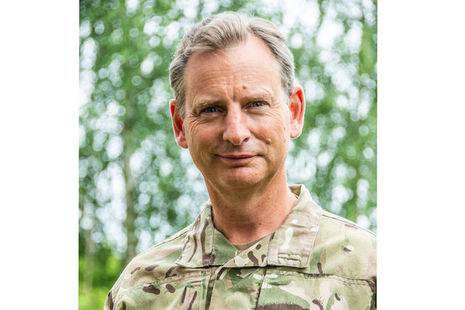 Biography
Mark Carleton-Smith joined the Army on a University Cadetship in 1982 and was commissioned into 1st Battalion Irish Guards. He served at regimental duty in London, Germany, Canada and South Armagh, prior to service with 22 Special Air Service in the Gulf and the Balkans as both a Troop and Squadron Commander.
A graduate of the final Army Command and Staff Course at Camberley, he was appointed Chief of Staff 19 Mechanised Brigade (1999 to 2001) serving three tours in Kosovo prior to promotion to Lieutenant Colonel as Military Assistant to the Commander-in-Chief Land Forces (2001 to 2002). He was subsequently appointed Commanding Officer 22 Special Air Service and he commanded the Regiment in Iraq and Afghanistan between 2002 to 2005.
Promoted to Colonel in 2005 he became Deputy Director Policy Planning in the Ministry of Defence (MOD) before assuming command of 16 Air Assault Brigade (2006 to 2008) during which time he served in Afghanistan as Commander Helmand Task Force and Commander British Forces Afghanistan. He served in the MOD as Director Army Resources and Plans (2009 to 2011) prior to promotion to Major General as Director Special Forces (2012 to 2015).
He was subsequently Director Strategy at Army Headquarters (2015 to 2016) and latterly assumed the appointment of Deputy Chief of Defence Staff (Military Strategy and Operations) in April 2016. He took up the appointment of Chief of the General Staff in June 2018. He is also the Regimental Lieutenant Colonel of the Irish Guards, and Honorary Colonel of Oxford University Officer Training Corps.
Chief of the General Staff
The Chief of the General Staff (CGS) is the professional head of the Army, with responsibility for developing and generating military capability from an integrated Army (Regular and Reserve) and for maintaining the fighting effectiveness, efficiency and morale of the Service.
The CGS reports to the Chief of the Defence Staff (CDS) and, as a Service COS, has a right of direct access to the Secretary of State and the Prime Minister. The CGS is a member of the Defence Council and the Army Board, the Armed Forces Committee, the Chiefs of Staff Committee and the Senior Appointments Committee.
Responsibilities
The Chief of the General Staff:
maintains the institutional health of the Army by exercising Full Command responsibility for all Army personnel
ensures the efficient and effective governance of the service
chairs the Executive Committee of the Army Board and the Army Command Group
contributes to the conduct of defence higher level business, with a particular responsibility for providing specialist advice on Army matters
develops future Army capability within the context of Defence strategic direction and resource allocation
leads the senior management team of the British Army
Announcements