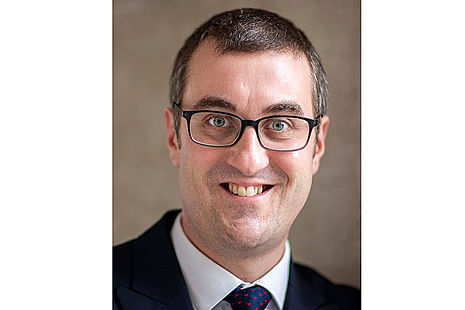 Biography
Charlie Pate has been in the UK Civil Service since 1999. After a number of roles working on welfare issues and local government performance, Charlie headed HM Treasury's early engagement on the 2012 Olympic and Paralympic Games programme. He then performed a similar role on various transport projects including Crossrail.
Promoted to the Senior Civil Service in 2009, Charlie returned to the 2012 Games programme as Head of Finance for the Government Olympic Executive. His team won the Government Finance Profession's Award for Outstanding Contribution in 2012.
Following the Games, Charlie returned to HM Treasury as Head of the Home and Legal Spending Team, overseeing £20-billion of budgets across the Home Office, Ministry of Justice and Crown Prosecution Service, leading the 2013 spending round and supporting several substantial reform programmes, including probation, courts and border operations.
Charlie joined the Ministry of Defence in 2015 as Director of Resources at Air Command. A member of the Air Force Board, Charlie was responsible for the RAF's £6-billion budget and leadership of the 5,000 civilians working with the RAF. He went on to become the MOD's Director of Financial Planning and Scrutiny in 2018 with responsibility for the management and allocation of the Department's £36-billion annual budget, and the scrutiny and approvals of all significant investment programmes.
Charlie was promoted to his current role of Director General Finance in March 2020.
Director General Finance
The Director General Finance is the principal financial advisor for defence and is responsible for all aspects of financial management and control, including the overall defence budget and forecasting within the MOD. They are a member of the Defence Council and the Defence Board, and chair the Defence Board sub-committees for Finance and Investment Approvals. They report directly to the Permanent Secretary.
Responsibilities
acting as the Department's Principal Finance Officer and Defence Authority for Financial Management, to provide advice and support to the Permanent Secretary as the Accounting Officer; including on regularity and propriety issues
negotiating and managing the Defence budget
managing the Department's in-year performance against targets and budgets
working closely with the Chief Operating Officer to assure the efficient operation of defence
setting the framework of and targets for efficiency and value for money work across defence
as Defence Authority, overseeing the Investment, Approval and Scrutiny processes and chairing the Investment Approvals Committee
production of the annual report and accounts
advising on internal audit, fraud and assurance functions
setting the strategic direction of the Department's Commercial function
leading the Department's functions for Finance, Analysis and Assurance.