Charles Edmund Garrett OBE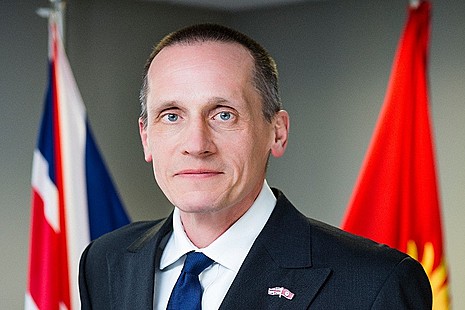 Biography
Charles Edmund Garrett joined the Foreign & Commonwealth Office in 1987. His career has been divided between Europe with postings in Cyprus and Switzerland, and East Asia with postings in Hong Kong and Taipei. More recently, he was British Ambassador to North Macedonia from 2014 to July 2018.
In his work on Europe Charles served as Head of EU Enlargement Team (2003-2005), Deputy Head of Central European Department (2001-2003), Head of Political and Public Affairs in Berne (1997-2001) and as Third Secretary Political Affairs in Nicosia (1987-1988). In the 1990s he served as Head of the Balkans Team of the UK Know How Fund (1995-1997).
Working on East Asia he has served in the Hong Kong Joint Liaison Group (1988-1989 and 1990-1993) and the Hong Kong Department in the Foreign Office (1993-1995). He was Deputy Director of the British Trade & Cultural Office in Taipei (2005-2009).
Serving in London, Charles was on secondment as Foreign Affairs Liaison at the Queen Elizabeth Diamond Jubilee Trust (2012-2013) and as Head of International Relations at the Organising Committee of the London 2012 Olympic and Paralympic Games (2010-2012). He was part of the Strategic Finance Team (2009-2010) and early in his career he was part of the Economic Relations Department (1987-1988).
In his free time Charles enjoys cycling and is a fan of football and nature.
Charles is married to Véronique and they have five children.
Social media links
British Ambassador to Kyrgyzstan
The Ambassador represents Her Majesty The Queen and the UK government in the country to which they are appointed. They are responsible for the direction and work of the Embassy and its Consulates, including political work, trade and investment, press and cultural relations, and visa and consular services.
Previous roles in government
British Ambassador to North Macedonia