The Rt Hon Anne-Marie Trevelyan MP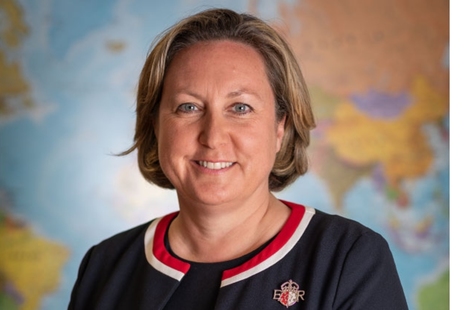 Biography
Anne-Marie Trevelyan was appointed as Minister of State (Minister for Business, Energy and Clean Growth) at the Department of Business, Energy and Industrial Strategy on 8 January 2021.
Anne-Marie Trevelyan was appointed as the UK International Champion on Adaptation and Resilience for the COP26 Presidency on 7 November 2020.
Previously Anne-Marie was the Secretary of State for International Development from February to September 2020. She was Minister of State for the Armed Forces from 17 December 2019 to 13 February 2020, and Minister for Defence Procurement from 27 July 2019 to 16 December 2019.
Anne-Marie was first elected as Member of Parliament (MP) for the Berwick-upon-Tweed constituency at the 2015 general election.
A chartered accountant by trade, Anne-Marie sat on the House of Commons' Public Accounts Committee from July 2015 to May 2017 and December 2018 to July 2019. She has previously served as the Parliamentary Private Secretary to the Secretary of State for Defence. As an MP, she has campaigned with colleagues for greater autism awareness and has focused on the Armed Forces Covenant.
Her wider interests involve spending time with her family, making the most of the incredible landscape her vast and varied constituency affords and putting her passion for singing to good use by taking part in Singing for Syrians concerts in Westminster.
UK International Champion on Adaptation and Resilience for the COP26 Presidency
On behalf of the UK government and the UN Climate Change Conference of Parties COP26 Presidency, the Champion leads discussions between national governments, the international community and business on adaptation and resilience (A&R). This means working towards supporting countries, including those most affected by climate change, to increase action to adapt to its impacts and build resilience for the future.
The Champion will drive forward greater global action and ambition in the lead up to COP26, working closely with the Foreign Secretary and the COP President-Designate.
Foreign, Commonwealth & Development Office and Department for Business, Energy & Industrial Strategy
Minister of State (Minister for Business, Energy and Clean Growth)
Responsibilities include:
carbon budgets
green finance
energy efficiency and heat, including fuel poverty
clean heat
low carbon generation
energy retail markets
oil and gas, including shale gas
security of supply
electricity and gas wholesale markets and networks
international energy
EU energy and climate
energy security, including resilience and emergency planning
sectoral lead:
Previous roles in government