Young innovators in Chennai
Chevening and UK Alumni Meet in Chennai.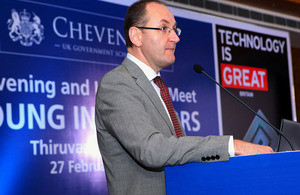 Chennai is already a knowledge economy and innovation hub, but it has the potential to become a global centre of excellence by: nurturing a culture of innovation in schools and colleges; showcasing the successes of a growing minority of young innovators; and strengthening academic-industry links with the UK.
These were some of the points that emerged from a discussion today with young innovators and mentors in Chennai, as part of a Chevening and UK alumni engagement event hosted today by the British Deputy High Commission.
Speaking at the event today, Mr Mike Nithavrianakis, British Deputy High Commissioner in Chennai said:
The UK is the ideal partner to strengthen academic-industry links. Innovation lies at the very heart of British culture and industry. Our ideas and inventions, from the telephone to the World Wide Web, have helped shape the modern world, and we are now helping reinvent it for the 21st century. Whether it is the development of IVF, the invention of the world's first computer or the design of high-performance cars, the UK's track record in innovation is second to none, making us the ideal partner for India, with its enormous human and intellectual capacity.
Mr Nithavrianakis encouraged companies from across Tamil Nadu to participate in a contest hosted by UK Trade & Investment (UKTI). UKTI is looking to introduce India's most promising innovative technology company to the best of UK. The contest is open until 31 March. The company with the most compelling proposal gets to visit London for a programme that includes receiving specialist advice, the chance to network with world-class inventors, incubators and companies in the UK and the chance to discover Tech City, Europe's most vibrant innovation hub.
UK Chevening Scholars who spoke of their experience were:
Ms. Girija Vaidyanathan IAS, Principal Secretary and CMD, Power Finance and Infrastructure Development Corporation Limited (POWERFIN), Government of Tamil Nadu
Dr Santhosh Babu IAS, Commissioner of Indian Medicine & Homeopathy, Government of Tamil Nadu.
Ms Swapna Sundar CEO, IP Dome – IP Strategy Advisors, a University of Kent alumnus, moderated a discussion with young innovators from Tamil Nadu
Dr Thillai Rajan A, Associate Professor, Dept of Management Studies, IIT Madras (Chevening Gurukul Scholar and alumnus from the London School of Economics, moderated a panel discussion with senior mentors on 'Innovation in the Tamil Nadu context', followed by interaction with invited guests.
Some of the points that emerged from public and private sector spokespeople from Tamil Nadu:
Tamil Nadu's large manufacturing base and tradition of inclusive innovation is a strong foundation for more high-tech innovation in knowledge sectors.
Increased industry-academic collaboration can significantly sharpen scientific innovation in Tamil Nadu.
Further information
For media queries please contact Anita Mawdsley, British Deputy High Commission. Mobile: +91-96001-99956
Follow UK in India on Twitter
Published 19 March 2013