News story
Written Ministerial Statement by Greg Barker on Warm Front and Energy Company Obligation
The Warm Front scheme has been an important policy in tackling fuel poverty among private sector households in England through the installation…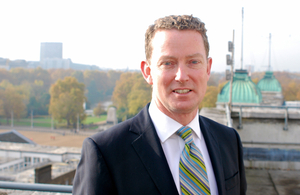 The Warm Front scheme has been an important policy in tackling fuel poverty among private sector households in England through the installation of a range of heating, insulation and other energy efficiency measures. The scheme was introduced in 2000 and has helped around 2.3 million households vulnerable to fuel poverty. The 2010 Comprehensive Spending Review announced that 2012/13 would be the last year of Warm Front's operation.
The scheme will close to new applications on Saturday 19 January 2013 to allow time for qualifying applications to be completed, as far as reasonably practicable, before the end of the financial year. All applications received before 5.00pm on that day will be processed under the scheme. Warm Front is closing only to new applications. Aftercare services for households assisted will continue.
For households seeking help and support once Warm Front is closed to new applications, the Energy Company Obligation (ECO) is already available. Anyone calling the Warm Front telephone line to make a new application after 5.00pm on 19 January will be directed automatically towards ECO.
ECO came into force on 1 January 2013 and works alongside the Green Deal, with the aims of saving carbon by supporting energy efficiency measures in harder to treat homes and enabling the installation of efficient boilers and insulation into the homes of vulnerable people across Great Britain. Part of the ECO is specifically targeted at a wider group of low income households than Warm Front, helping them to keep warm and save money on energy bills. A referrals system is already operational for people who call the ESAS helpline.
This checks customer eligibility against the benefit based criteria for ECO Affordable Warmth support. Relevant customers will then be put in customers in contact with suppliers participating in the ECO who will then provide a guaranteed minimum package of assistance under this obligation. Householders should therefore contact the Energy Saving Advice Service (ESAS) for advice and access to ECO.
Furthermore, we have also taken steps to ensure that we make maximum use of the full budget for capital spending on fuel poverty. As set out in a written Ministerial statement to Parliament on 15 January 2013, DECC is awarding some £31m of capital funding to support 61 outstanding local fuel poverty projects, helping 169 local authorities across the country improve the thermal efficiency of homes in their area.
Published 16 January 2013