World news story
World Wetlands Day 2016
Today is a World Wetlands Day; this is celebrated every year on 2 February. This day marks the date of the adoption of the Convention on Wetlands on 2 February 1971, in the Iranian city of Ramsar on the shores of the Caspian Sea.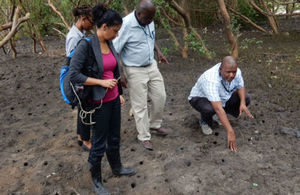 Wetlands for our Future: Sustainable Livelihoods is the theme for World Wetlands Day in 2016. This theme is selected to demonstrate the vital role of wetlands for the future of humanity and specifically their relevance towards achieving the new Sustainable Development Goals.
To celebrate the occasion, a number of DFID members of staff visited a Mangrove site on the Msimbazi river mouth, near the Salender Bridge, to see firsthand and learn on mangroves ecology and functions.
Mangroves are forests that grow in saline coastal sediment habitats in the tropics and subtropics. Mangroves are salt tolerant trees, also called halophytes, and are adapted to live in harsh coastal conditions. They contain a complex salt filtration system and complex root system to cope with salt water immersion and wave action. They are adapted to the low oxygen (anoxic) conditions of waterlogged mud.
In line with this year's theme of Wetlands for our Future: Sustainable Livelihoods it worth noting that mangroves have multiple uses. Mangroves provide habitat and breeding grounds for various organisms. The fine, anoxic sediments under mangroves act as sinks for a variety of heavy (trace) metals. Also, Mangrove swamps protect coastal areas from erosion, storm surge and tsunamis. Moreover, Mangroves poles are used for building homes and barks of at least one mangrove species are used producing tannins that are used for treating and colouring skins and hides.
"My thoughts: Beautiful crabs – and judging by the number of holes, there are lots of them. Are they edible? If they are, can they (or other creatures that live in the mangrove area) be farmed? Not pleased to see the plastic bags and spray cans in the water. These are flowing out and polluting the ocean – can this issue be fixed by policy, penalties for dumping industrial waste into the creek? Can the mangroves be sustainably harvested – and the wood used for building etc?" Deborah Affonso.
"Thanks so much for a really interesting visit. What struck me was the resilience of the area - and the fact that the mangrove and wild life can live with such pollution. Related to this – I was astounded by how beautiful the area is – and therefore how relatively simple it would be to make this an area for tourism!" Jane Miller
Published 9 February 2016