World Aids Day 2010: Deputy Prime Minister message
Successes in preventing the impact of HIV and Aids around the world should inspire governments to do more, the Deputy Prime Minister said.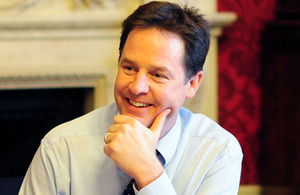 In a video to mark World Aids Day, Nick Clegg said enormous progress had been made in treatment and prevention, causing the number of new infections to fall.
And he said that the UK government will do more to help those affected by Aids. Ministers have protected the international aid budget despite the push to cut the deficit and will refocus aid efforts on improving women's and children's health, including improving access to family planning.
The Deputy PM said:
There's still a long way to go before we get to a world free of HIV and Aids but we have come too far to aim for anything less.
Published 1 December 2010