World news story
Working together for better rescue operations in Macedonia
UK organisation Operation Florian assists Macedonian emergency services in improving standards on search and rescue.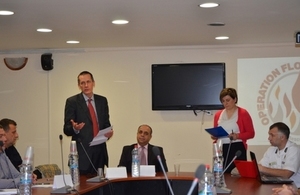 On Friday 10 February representatives of Macedonian Directorate for Protection and Rescue, Ministry of Interior, Ministry of Health and Firefighting Units at a workshop discussed the advantages of using the UK's Joint Emergency Service Interoperability Programme (JESIP). This programme was in the focus of the work of Operation Florian in Macedonia in the past year. It is an approach to ensuring that, when an accident happens, the first service to arrive at the scene – whether police, fire or ambulance – will use the same model of response. This coordination is key in delivering the most efficient and effective approach at the accident scene.
Our Ambassador Charles Garrett opened the workshop along with the Director of the Macedonian Directorate for Protection and Rescue Shaban Saliu.
In his opening remarks he said:
This year we are marking a jubilee - a decade of extraordinary cooperation of Operation Florian with the Macedonian fire and rescue services. It has, for both sides, been an adventurous and eventful journey. Their work ranges from training emergency services, through donation of equipment, to organising exercises for the Macedonian emergency services to practise their skills and learn new methods. The JESIP model of operation was adopted in the UK after a long period of development. Macedonia will want to make its own decision about its approach to emergency response. And the UK stands ready to share its experience and the lessons learned for this process.
Operation Florian has been present in Macedonia since 2007. They have been working in partnership with municipalities and national agencies teams in Macedonia, along with support from UK Fire & Rescue Services. Their work has contributed to significant improvements in the fire fighting and rescue capacity of the fire service in the country. The work so far includes providing 20 fully equipped fire engines, additional breathing apparatus equipment to enable fire-fighters to work in smoke and toxic environment, specialist fire fighting protective clothing and specialist hydraulic rescue equipment for improving rescue intervention at road traffic collisions.
Operation Florian volunteers have trained over 250 fire-fighters in urban fire fighting techniques, road traffic collision rescue skills, water rescue and urban search and rescue. Their work also includes partnership with the Macedonian Red Cross and other areas connected to the work of search and rescue operations.
Connect with us on Facebook or follow us @ukinmacedonia
Connect with the British Ambassador on Facebook or @BritAmbCGarrett
Read our blog UK in Macedonia
Published 13 February 2017