World news story
Engaging for accountable and transparent Parliament in Macedonia
British Embassy supports programme on improving parliamentary performance in Macedonia and providing access to information for citizens.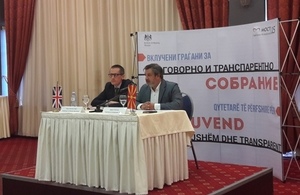 The need for functional and improved performance of the Parlaiment of Macedonia was in the focus of the presentation delivered by the civil society organisation MOST at a public event today in Skopje. The data presented showed how the Parliament worked in passing legislation, consultations it had made and how open it was for the members of the public in Macedonia.
Our ambassador Charles Garrett shared the panel with Darko Aleksov, Executive Director of the civil society MOST. In his remarks ambassador Garrett said:
Parliamentary information belongs to the public. In a democracy, that is self-evident. Members of Parliament are elected as representatives of the people. I don't think there is a greater responsibility. Therefore, the people have a right to know what their MPs are saying on their behalf in the Аssembly.
Information is also the main ingredient in consultation between Parliament and the rest of the country. Consultation with experts, with voters, is essential to creating good laws. How can proper consultation happen if the experts, voters and others are not given the relevant information?
In theory we can speak about textbook democracies. Hence, I cannot think of a democracy with a perfect record in practice. All are less than perfect. Sometimes that's because of bureaucratic inefficiency. Sometimes it's because the MPs or Assembly officials find it inconvenient to release information, or in other words would prefer to cover things up. Sometimes it is because of old-fashioned rules and practices: parliaments are very good at being overtaken by new technology or new trends. I can think of examples of all of these in Westminster. And there are examples of them here too in Macedonia.
It is important that people who are responsible for functioning of parliaments, constantly ask themselves if they are doing all they can to ensure maximum transparency of parliamentary business.
The programme that MOST is running puts the parliamentary transparency in the spotlight. The parliamentary experts at MOST have been monitoring the work of the Parliament and assessing it against a series of measures. Then, they pull all of this information and analysis into a report which is available to the public and clearly and simply tells the citizens how their MPs have worked.
We hope that, with this project, Parliament can strengthen its engagement with citizens, with civil society, with business, to the benefit of all. We are delighted to support democracy in this way.
Parliament lies at the heart of Macedonia's democracy. Current developments in the Parliament of Macedonia do no service to the development of democracy. They undermine the credibility of the institution both within Macedonia and abroad.
Democracy does not happen overnight. Nor is there ever an end-point. Democracies need continually to look for ways to strengthen themselves.
UK has been a long-standing supporter of Macedonia. In over two decades of partnership we have worked with Macedonia to strengthen democracy, with Parliament being our strong interest.
Our partnership with Macedonia, which already has a long track record, will continue. A fully functioning, transparent and responsible Parliament is the cornerstone of democracy.
The programme is implemented by the civil society organisation MOST from July 2016 until the end of March 2018 with the support of the British Embassy Skopje. You can find more information about our programme assistance here.
Connect with us on Facebook and @ukinmacedonia
Connect with the British Ambassador on Facebook and @BritAmbCGarrett
Read our blog UK in Macedonia
Published 12 April 2017