World news story
Women's Entrepreneurship Day
The launch of a global movement to celebrate, empower and support women entrepreneurs worldwide.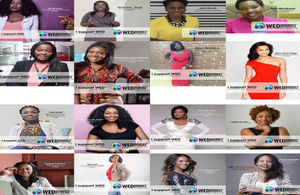 "I have dedicated my whole life to helping the 'underdog' thrive. Historically, women worldwide have been underpaid, undervalued, underrepresented, underfunded — and underestimated. We are dedicated, determined and driven to change this - the women entrepreneurs involved in WED are inspirational role models to women everywhere!" says Wendy Diamond - The CEO and founder of Women's Entrepreneurship Day (WED)
WED is a day to celebrate women entrepreneurs across the globe. The inaugural event last year was a huge success and the support from around the world has been phenomenal.
This is the second year running and the day has been proclaimed an "official day" by both New York Governor Andrew Cuomo and New York City Mayor Bill de Blasio.
This year WED introduced the Student Ambassador initiative encouraging participation from some of the worlds leading educational institutions such as Stanford, Duke, University of Pennsylvania, Harvard, Babson and University of Oxford.
Leticia Browne, WED Ghana's ambassador saw this as a fantastic opportunity to increase the WED footprint in Ghana and showcase some of the up and coming talent in our Universities. Assembling a team of experienced female entrepreneurs to provide mentorship. The WED team will be visiting 5 of our Universities to inspire and impart knowledge into the next generation of female business leaders. The day will be brought to a close at celebratory cocktail event held in Accra.
WED is the world's largest celebration of women innovators and job creators launching startups; bringing ideas to life, driving economic growth, and expanding human welfare.
The event held in New York will be available via livestream (please visit the WED Ghana Facebook page for venues and details), It is a once in a lifetime opportunity to listen to the ideas of world-class speakers, and be a part of larger discussion to empower women in business worldwide. Women leaders and various female company founders, Philanthropists, Entrepreneurs, Creatives and Business Leaders will be speaking and championing the event this year.
Locally we have rallied an impressive and powerful list of attendees, influential organizations, leaders, and entrepreneurs that support women. We will gather at the Alisa Hotel on this day as collective to "CELEBRATE, SUPPORT AND EMPOWER WOMEN ENTREPRENEURS WORLDWIDE." Our partners include, DFID, PwC, ACCA, Media Channel Concepts and Alldens Lane.
WED Ambassador for Ghana and WED Regional Co-coordinator for Africa Leticia Browne is also the Investor Relations Manager for Ghana Angel Investor Network, it is her hope to engage more women in business and bring to the forefront issues such as access to capital for women owned businesses. Leticia is also a strong believer in the power of a collective voice and envisions that WED will one day be the platform that connects women led and inspired causes and businesses around Ghana and the continent at large.
We encourage you all to dedicate your talent, time or treasure in supporting women owned businesses and causes.
Please follow us on Facebook: https://www.facebook.com/Womens-Entrepreneurship-Day- GHANA-378666462288045/?fref=ts
Twitter: @WED_Ghana and @Womenseday tweet about it #WomenWOW
Instagram: @womenseday
Join Us To Celebrate, Empower, And Support Women In Business Worldwide
Published 19 November 2015