News story
Womenomics could unlock huge potential for Scottish growth
Review considers how to unlock the full potential of women to Scotland's economy.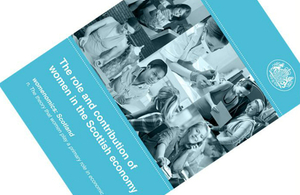 A focus on action and delivery through a joined-up national approach will unlock the full potential of women to Scotland's economy according to an independent review published today.
Last year Professor Lesley Sawers, a member of the Scottish Business Board, was asked to lead a review looking at the role and contribution of women to the economy in Scotland, business growth and the issues women face throughout their careers.
To tackle the gender issues she has identified, Professor Sawers makes a number of recommendations around three specific areas that she believes will require a joined approach by Government, business, and wider Scottish civic society:-
Mainstream attitudes and behaviour
The report calls for a move away from identifying issues as "women" or "feminist" issues towards mainstreaming attitudes and behaviours around gender not just in work but in wider society. This will ensure all talents are maximised to encourage growth in the economy.
Measure for impact
The report proposes a co-ordinated and national approach across the UK. To support this a Gender Index should be developed that will measure the impact of policies and programmes Such an index in a Scottish context would apply measures appropriate to economic growth and enable progress to be tracked over time. Measures of gender performance could then be linked in employment, business start-ups, and education pass rates.
Mentor and lead for change
The report highlights that there should be more inspiring role models who can support women's careers and demonstrate leadership from school through to the boardroom. A proposed National Mentor and DataBank would match young women and business needs throughout Scotland. Public agencies and private companies should also provide encouragement and support through transparency in pay, roles and training opportunities, and also invest in developing our young female future leaders in Scotland.
Professor Sawers said:
In recent years significant progress has been made in addressing the challenges women face in their careers and caring roles. Major issues however remain and this Review has focused on understanding these challenges within a Scottish context and has identified an action plan that can deliver real and lasting change for generations of women across Scotland.
Scottish Secretary Alistair Carmichael said:
I would like to thank Lesley for undertaking this piece of work, which I am sure will make progress for future governments in this area easier to achieve. The scope and scale of her report underlines Professor Sawers desire to make the most of her knowledge and insight to help shape the way Scotland views women in the workplace and their contribution to the economy for the better.

With a continued willingness to work together we can tackle the culture and behaviours that hold women back from making their full contribution to economic growth, unlocking the potential of our entire workforce.
Equalities Minister Jo Swinson said:
The UK government is committed to supporting women in the economy, both as employees and in running their own businesses. By introducing shared parental leave, taking action to close the gender pay gap and supporting female entrepreneurs, we have strengthened flexibility and equality in the workplace and helped women start and grow their own businesses.

But the report is right to highlight that there is a good deal more to do, and to call upon the four nations to work together to achieve even more for Scotland's women – as well as those in other parts of the UK.
The UK Government's long term plan has already helped to improve the lives and opportunities of women across the UK:
There are more women in work than ever before. 14.4m women are in work in the UK, an increase of 851,000 since May 2010. The latest employment data shows there are now a near record 1,295,000 women employed in Scotland. This represents an increase 101,000 since May 2010.

Under this Government, the gender pay gap is the lowest ever at 19.1%. In Scotland it is even lower at 17.5%.

There are more women-led businesses across the UK than ever before: 20% of small and medium sized enterprises are either run by women or by a team that was over 50% female, an increase of 140,000 since 2010.

There are more women on FTSE Boards than ever before: 23.5% of FTSE 100 Directors, up from 12.5% in February 2011; now no all-male FTSE100 boards, down from 21 in 2011.

3.7m workers will be out of income tax by April 2015 and more than half (56%) of whom will be women.

Almost 2m families could benefit from new tax free childcare scheme from autumn 2015, worth up to £2,000 per child

We've extended the right to request flexible working to all and introduced a system of shared parental leave that comes into effect this year.
Published 26 March 2015