Press release
Wokingham shipping company and director fined and sentenced for illegal export of waste
A Wokingham shipping company has been fined and its director handed a prison sentence for attempting to illegally ship WEEE (Waste Electrical and Electronic Equipment) to West Africa.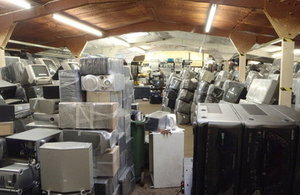 Bakour Limited and company director, Adam Bakour, based at Rushton Farm, Warren House Road in Wokingham, pleaded guilty to offences relating to the attempted shipment of 6 containers filled with WEEE to various West African countries.
On 23 March 2015, Reading Crown Court ordered Bakour Limited to pay a fine of £7,950. Adam Bakour, the sole company director, was sentenced to 18 months' imprisonment, suspended for 2 years. Mr Bakour was also ordered to pay a contribution of £5,000 to the costs of the Environment Agency investigation and prosecution.
Circumstances of the case
The court heard that Bakour Ltd offers a professional shipping service for used electrical goods. The company obtained the items for shipment mainly from recycling centres, civic amenity sites and Sunday markets. The items included CRT (cathode ray tube) televisions and fridge freezers, which contain hazardous components. Hazardous WEEE should not be sent to countries which lack the capacity and infrastructure to ensure that the items are treated without risk to human health or the environment.
Six shipping containers loaded with WEEE, some of which was hazardous, were stopped by the Environment Agency prior to export to various West African countries between October 2011 and August 2013. In each instance, the containers were filled with items from and loaded at Bakour Ltd's premises at Rushton Farm in Wokingham.
Each container was unloaded and examined at the Environment Agency's dedicated inspection yard. The contents were examined for compliance with the Revised Correspondents' Guidelines No1 on Shipments of Waste Electrical and Electronic Equipment - the agreed European standard used by regulators and provided to industry to determine whether a shipment of electrical and electronic equipment is to be regarded as waste or not.
Heather White, Environment Agency Officer said:
Criminals may see illegal waste exports as an easy route to make money, but today's verdict shows that waste crime doesn't pay. Sending Waste Electrical and Electronic Equipment with hazardous components to less economically developed countries is not only unlawful but immoral. It's a crime that shows a blatant disregard for the safety and welfare of overseas communities and the environment.
The court also heard that on 2 occasions Mr Bakour was interviewed under caution about the containers. The defendant stated that his company only exports working electrical goods and does not deliberately ship any waste items. As far as the stopped containers were concerned, Mr Bakour stated that his employees had not been carrying out their jobs properly.
After the interview, an Enforcement Notice was served on Bakour Ltd, requiring certain steps to be taken to ensure compliance with legal guidelines. Heather White visited Bakour Ltd on 10 September 2013 and saw that procedures had improved. A further visit on 27 September 2013 demonstrated that the entire Notice had been complied with.
Offences:
Transporting waste specified in Article 36(1)(d) of European Regulation 1013/2006 on Shipments of Waste, namely a mixture of hazardous waste with non-hazardous waste, that was destined for recovery in a country to which the OECD decision does not apply – contrary to Regulation 23 of the Transfrontier Shipment of Waste Regulations 2007.
Attempting to export items containing dicholorodiflouromethane (also known as R12 gas) which is prohibited from export out of the European Community by Article 17(1) of European Regulation 1005/2009 on Substances that Deplete the Ozone Layer – contrary to Regulation 4(1), Schedule 2 and Regulation 6 of the Environmental Protection (Control on Ozone-Depleting Substances) Regulations 2011.
Published 23 March 2015