World news story
Winner of Downton Abbey competition announced in Chile
Claudia Arenas from Concepción won the Downton Abbey competition for creative writing. She won two return tickets to the UK.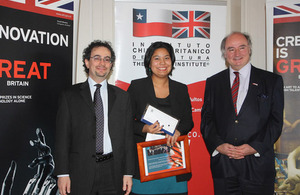 The British Embassy in Santiago announced that Claudia Arenas, a 19 year old student of English pedagogy from Concepcion, has won our Downton Abbey competition, made possible with sponsorship from the British Institute. For the competition, we asked entrants to write a short script for Downton Abbey 2013 – i.e. set in modern day Britain. Claudia impressed the judges with her well written and creative story. In Claudia's winning entry, the traditional Downton Abbey manor is converted into a 21st century London pub and the plot focuses on anti-discrimination in modern Britain. Read here Claudia's story (in Spanish.)
Claudia wins flights, accommodation and expenses for a one week trip to London. Her prize will include a visit to Highclere Castle, the home of the Earl and Countess of Carnarvon, and filming location for Downton Abbey. She received the prize in a ceremony held at the British Residence on 25 July.
On announcing Claudia's prize, Jon Benjamin, British Ambassador to Chile said:
Claudia used her creativity and imagination to write an excellent script propelling Downton Abbey into the 21st century. Her script highlights several aspects of what is great about Britain today – tolerance, equality and respect but also creativity, vision and innovation. I hope she enjoys her trip.
For more information about the activities of the British Embassy in Santiago, follow us on:
Published 25 July 2013