Press release
West Midlands businessmen sentenced for operating illegal waste site
On Thursday 18 February, HHJ Pearce Higgins QC sentenced 4 defendants for what was described as reckless and negligent environmental crime.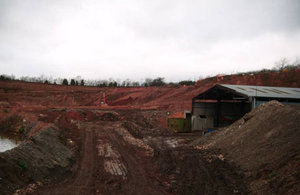 Steven Broadley, Stephen Butler and the company they owned and directed called Broadley and Parton Limited were sentenced in relation to an unlawful waste operation on land at Cinetic Quarry near Wildmoor in Worcestershire. Also sentenced was Steven Bragg who was employed on the site and pleaded guilty to operating the site beyond the extent of the environmental permit.
During a 4 day sentencing hearing the Judge heard evidence that the site had operated beyond the terms of the permit, and industrial and municipal waste had been found buried in areas of the quarry, making a financial gain over 2011-12 contrary to the Environmental Permitting Regulations. HHJ Pearce Higgins QC commented it was clear to him that the site had been operated in a haphazard and irregular way.
In total 6 defendants were convicted of participating in the unlawful deposit of waste at Cinetic Quarry, including company directors and site managers, in a particularly complex prosecution. This followed a 2 year investigation by the Environment Agency during which the defendants ignored repeated warnings that their activities on Cinetic Quarry were unlawful and posed a significant risk to the environment. The defendants pleaded guilty before their trial and were fined a total of £18,750 and ordered to pay £30,250 costs.
In mitigation both directors said the financial gains made by the unlawful waste operation had been overestimated and the actual environmental risk had been very low. Both were of good character and both denied any knowledge of waste having been buried. They denied that they had made any substantial financial benefit and the judge accepted this in sentencing.
It was said that Steven Bragg had pleaded guilty at the very first possible opportunity and was of previous clean character.
Two other defendants, Brian Williams and John Chamberlain are yet to be sentenced.
Speaking after the case, an Environment Agency officer in charge of the investigation said:
This site posed a risk to the environment and had the potential to harm human health because it did not have the correct infrastructure in place to support the waste being disposed of there.
All of the defendants have significant experience in the waste industry so they would have been fully aware of their obligations to comply with environmental permitting rules which help ensure the environment remains protected. Each defendant was given warnings by the Environment Agency that the operation at Cinetic Quarry was unlawful, but these warnings were ignored. This is unacceptable; we take waste crime extremely seriously and will not hesitate to prosecute in cases such as this.
Published 22 February 2016