News story
West Cumbria makes shortlist in bid to help expand Heathrow Airport
The former Alcan site at Lillyhall is one of 18 to make the shortlist, to host one of four logistics hubs to support the growth of the UK's busiest airport.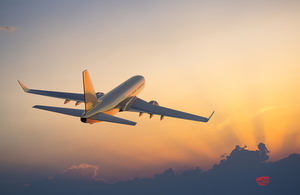 Sellafield Ltd submitted the bid on behalf of the county, putting forward for the site to be used as a base for manufacturing and construction related activities for the project.
The bid was led by the head of community and development for Sellafield Ltd, Gary McKeating.
He said:
A central aim of our transformation is to help our supply chain develop and diversify, this will help build a resilient and sustainable local economy which is less dependent on Sellafield and able to compete for investment with other UK regions.

We are delighted that the West Cumbria site has reached the next stage of the Heathrow expansion competition.

It demonstrates the unlimited potential of our region, as a hub of diverse skills and expertise, to compete on a national level to deliver major developments for the UK.

This is a great example of us working in collaboration with local authorities and our supply chain together to unlock opportunities for economic development in West Cumbria.
Heathrow bosses will eventually pick four regional centres from the short list of 18, whittled down from an initial 121 applications.
The winners will be announced early next year, ahead of work starting in 2021.
The hubs will pre-assemble components of the expanded airport before transporting them in consolidated loads to Heathrow. The aim is to ensure UK regions outside the south east benefit from the Heathrow expansion programme.
Emma Gilthorpe, Heathrow's Executive Director for Expansion said:
Heathrow is as committed as ever to creating a plan that delivers for every corner of the UK.

Logistics hubs are key to achieving that. This innovative approach will be more cost effective, efficient and sustainable, helping to unlock much needed capacity quickly and responsibly.

We are working with other major infrastructure projects to see if they might also benefit from these hubs, creating a bright, new future for the UK's construction sector.

One in which we're better utilising new technology and offsite techniques to spread the benefits of major projects like expansion nationwide.
Published 28 March 2019