World news story
Welcoming Ramadan with UK- Al Azhar scholarship students
The British Ambassador welcomed the Holy Month of Ramadan alongside three Egyptian scholars who have been awarded the UK-Al Azhar scholarship for the 2018/19.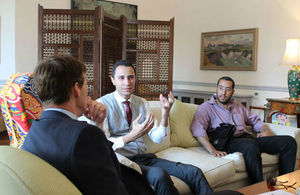 The Religious Studies scholarship was established in 2015 by the Grand Imam of Al-Azhar, Sheikh Ahmed el-Tayeb, and the British Ambassador, John Casson. It identifies exceptional Al-Azhar graduates with strong academic and leadership potential and invests in them to ensure that the next generation of religious leaders are equipped to build inter-faith dialogue and confront extremism.
This year's scholars are Mohamed Bassyoni, Omar Adel and Abdel Fattah Rezeka. They will now pursue their dreams of completing PhDs in the UK's leading universities, in the fields of international and Islamic law, the history of Christian and Muslim alliances, and literature, comparing the theology found in the writings of some of Egypt and Britain's most famous authors.
Nine UK-Al Azhar scholarships have been awarded so far, and each scholarship is worth about £150,000 per candidate. As well as providing for their studies, the scholarship opens doors to deeper connections between British and Egyptian society and faith communities. In March the UK- Al Azhar scholars met His Royal Highness the Prince of Wales, a Patron of the Scholarship's Fundraising Campaign who holds an honorary doctorate from Al Azhar, to share ideas on religious tolerance and counter extremism efforts. In April, the scholars were invited to Scotland for the first ever Ginko Fellowship Programme, a three day retreat with leading Christian and Muslim scholars from British universities.
British Ambassador to Egypt John Casson said:
I am happy to welcome this special month for Muslims with three Muslim scholars and future leaders. It is inspiring to hear about their plans for studies at the UK's leading universities. For too long diplomacy has treated religion only as a problem, and it is time we recognised that the world needs faith leaders to provide essential resources and solutions too. By investing in future faith leaders, we are opening doors for a more tolerant and peaceful society in Britain, Egypt and the world.
UK- Al Azhar scholar Abd El Fattah Rezeka said:
This scholarship will allow me to bridge the gap between western methodology and its eastern peer. To receive a PhD from the United Kingdom, one of the greatest educational places in the world, will be the first step of achieving my academic dreams.
Al-Azhar and the U.K. have a long-running partnership, which started in 2007 at the request of the Grad Imam of Al-Azhar, then President of the University, who approached the British Council to set up an English language training centre for students at the faculty of Islamic Studies.
The Acting Country Director of the British Council in Egypt, Alex Lambert, said:
Through our English teaching expertise and the scholarships we can help Al-Azhar scholars express themselves in international circles and contribute to a greater global understanding of Islam and Egyptian culture.
Published 17 May 2018