World news story
Welcome to Beirut Mr Bond
SPECTRE is the new James Bond movie celebrated by the British embassy in an advance screening for more than 700 guests.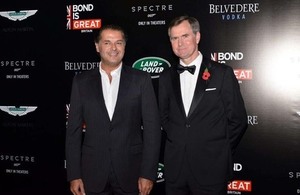 In a black-tie red carpet event to celebrate the premiere of new James Bond film SPECTRE, more than 700 guests attended the event hosted by the British Embassy in Lebanon in collaboration with Aston Martin, Land Rover and Belvedere.
The new film, the 24th in the series, sees British actor Daniel Craig reprising his role as the iconic 007 for the fourth time. The story sees Bond embarking on a rogue mission to Mexico City and eventually Rome, where he uncovers the existence of a sinister organization known as SPECTRE. Set to a backdrop of stunning landscapes and historical buildings, the film promises the Lebanese audience an evening of thrills, glamour and excitement.
The advance screening at 'Cinemacity' in Beirut Souks was part of global 'Bond is GREAT' events, which highlight the technology, innovation and creativity of brands from the UK – the #HomeOfBond. British Ambassador Designate to Lebanon Hugo shorter welcomed his guests, who were drawn from politicians, actors, businessmen, entrepreneurs and fashion designers, and highlighted the opportunities for collaboration between Lebanon and the UK, whether in film, music, fashion or trade.
Shorter said:
Lebanon and the UK not only share in their passion for films, music, fashion and design, but also in their love for creativity, glamour and intrigue. In 1974 James Bond passed through Beirut on his way to Thailand to do battle with Scaramanga in The Man with the Golden Gun. Some Lebanese argue that life in Lebanon is a real life Bond movie, never a boring moment in this cosmopolitan and complicated capital of the Middle East.
We've hosted many renowned British artists from dance, theatre, music, literature and poetry – including David Gray, Jessie J, Akram Khan, Benjamin Zephaniah and the Royal Court Theatre. Thanks to the British Council, many of them have come not just to perform, but to host workshops sharing their expertise with the next generation of Lebanese stars.
But that's not all we have to offer: we are aiming to increase trade with Lebanon by 25% from 2012 to 2016. And in these difficult times, I am pleased to say that British companies are stepping up to confront the challenges Lebanon is facing and help build a prosperous future. The UK Lebanon Tech Hub shows that Lebanon's brilliant minds have big ideas that can compete globally in the ever expanding knowledge economy.
Notes to Editors:
SPECTRE is the 24th adventure from EON Productions, Metro Goldwyn Mayer Studios and Sony Pictures Entertainment
A cryptic message from the past sends James Bond (Daniel Craig) on a rogue mission to Mexico City and eventually Rome, where he meets Lucia Sciarra (Monica Bellucci), the beautiful and forbidden widow of an infamous criminal. Bond infiltrates a secret meeting and uncovers the existence of the sinister organization known as SPECTRE.
Sam Mendes returns to direct SPECTRE, with Daniel Craig reprising his role as 007 for the fourth time. SPECTRE is produced by Michael G. Wilson & Barbara Broccoli. The screenplay is by John Logan, Neal Purvis, Robert Wade & Jez Butterworth story by John Logan, Neal Purvis & Robert Wade.
SPECTRE showcases British cars that push the boundaries on engineering and design. Aston Martin's DB10 is James Bond's new car in the film SPECTRE.
The Bond is GREAT campaign will kick off across more than 60 countries
UK-Lebanon Trade:
Lebanon remains the UK's second largest trading partner in the Levant and the UK's sixth trading partner in the Middle East.
UK exports to Lebanon in 2014 reached £0.5 Billion. Many UK companies have opened franchises in Lebanon in 2013 and 2014. In challenging times we were aiming to increase UK Lebanon trade in four years (2012-2016) by 25%.
UK helping Lebanese municipalities offer better services to citizens by employing UK technology in the energy sector. The city of Zahle in the Bekaa, is providing more than 55 thousand subscribers 24/7 of power thanks to Aggreko (UK).
We launched the UK Lebanon Tech Hub in April 2015 which anchors the UK as one of the primary partners helping bridge the gap between local talent and British expertise in the Knowledge Economy sector.
Published 5 November 2015