Press release
Weekend overnight closures for £7m M6 widening work
Drivers using the M6 and M55 around Preston in Lancashire are being advised that some full carriageway closures will be taking place over the next few days as part of the £7m pinch point widening improvements.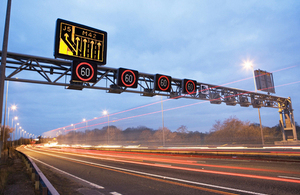 The Highways Agency is widening the northbound carriageway of the M6 ahead of and through junction 32 at Broughton Interchange where the motorway meets the M55.
To lay out traffic management for the work, which is expected to be completed by November, the northbound M6 will be closed from junction 31 this Saturday and Sunday night (31 May and 1 June) between 9pm and 6am on each of the two overnight periods. Drivers will be able to rejoin the northbound M6 by following a signed diversion route along the A59, A5085, A6 and joining the eastbound M55 for the northbound M6.
The eastbound link road from the M55 onto the northbound M6 will itself close overnight between 9pm and 6am on Monday night and Tuesday morning (2 and 3 June). Drivers wishing to access the northbound M6 will need to leave the M55 at junction 1 and follow the diversion route along the A6 to Junction 33 of the M6 at Galgate.
Further overnight closures of the northbound M6 at junction 31 will be taking place next weekend starting on Friday 6 June and the weekend after starting on Friday 13 June – with Friday night to Saturday morning and Saturday night to Sunday morning closures. All Friday night to Saturday morning closures will be between 10pm and 6am each night. Saturday night to Sunday morning closures start an hour earlier at 9pm.
The closures are to safely carry out the installation of temporary safety barrier and narrow lanes and include some works on overhead gantries. Some closures of the southbound carriageway will also need to take place soon but the timings have yet to be finalised.
The project is one of 123 in the Government's £317 million 'pinch-point' initiative – a two year programme of targeted works being delivered alongside larger schemes and routine maintenance and improvements along the strategic road network. The Highways Agency provides live traffic information via its website, local and national radio travel bulletins, electronic road signs and mobile platforms, such as the iPhone. Local Twitter services are also available at @HAtraffic_nwest and @HAtraffic_pen9 for Transpennine routes.
Providing they can do so safely, road users can also call the Highways Agency Information Line (0300 123 5000) to keep up to date with road conditions.
General enquiries
Members of the public should contact the Highways Agency Information Line on 0300 123 5000
Media enquiries
Journalists should contact the Highways Agency press office on 0844 693 1448 and use the menu to speak to the most appropriate press officer
Published 31 May 2014