News story
Webinar 16 August - Sell to the Home Office
Thursday 16 August, 12:30 - 1pm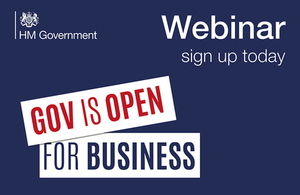 Join this webinar with Lucy Moody, Commercial Manager at Home Office, to discover the types of products and services this large central government department is looking to buy, and how you, as a small business, can stand out and be noticed to become a supplier.
Lucy is SME Champion at Home Office and works to support government's ambition that £1 in every £3 is spent with SMEs by 2022. Home Office is committed to strengthening links with, and sales from, small firms. Find out more in this 30 minute presentation and conversation.
Click here to register.
Published 10 July 2018