World news story
"We are all equal" campaign promoted in Macedonia
British Embassy in partnership with OXO and Education Ministry launch campaign on promoting equality in primary schools in Macedonia.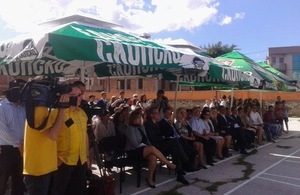 The importance of social cohesion and integrating the next generation through education and extracurricular activities were the main messages at the launch of the campaign in primary schools in Macedonia under the programme supported by the British Embassy for diversity and multiculturalism.
Our ambassador Charles Garrett launched the campaign on 15 September in the primary school Stiv Naumov in Bitola along with the head teacher of the school Biljana Rahmanova-Taseva, the mayor of Bitola Vladimir Talevski and Education Minister Abdilakim Ademi.
Speaking at the launch event our ambassador Charles Garret said:
For education it is very important to provide opportunities for children of diverse background for learning the common values, common rights, rules and responsibilities. This is a very comprehensive task, for which I can tell from our experience in the UK. When we teach children, we just not teach them how to learn from the books, but also we teach them to learn from each other and with each other. We are all teachers as we go through life and we have the responsibility as the adult generation of parents, teachers, and leaders to pass on the values for common future and understanding to the children.
The campaign is part of the project 'We are all equal' for primary school children in Macedonia.
The aim of the project is promoting interethnic and intercultural interaction and social cohesion among primary school children in Macedonia. It is implemented by OXO - Association for education communication and consulting in partnership with the Ministry of Education in Macedonia and the Bureau for Development of Education in the period of June 2013-March 2015.
Find out more about British Embassy Programme Assistance.
Connect with us through our Facebook page or Twitter channel @ukinmacedonia.
Connect with the British Ambassador on Facebook or Twitter @BritAmbCGarrett.
Read our blog ukinmacedonia.
Published 17 September 2014