News story
Watch National Information Board leadership meeting online
NIB leadership meeting will include question and answer session with George Freeman, Minister for Life Sciences.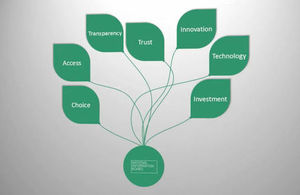 The meeting, on Tuesday 9 December from 10.30am, will be live streamed.
The Board will discuss and agree the next steps and actions following publication of 'Personalised Health and Care 2020'. The next steps include developing a detailed roadmap with health and care providers for them to adopt standards of safe digital record keeping and provide citizens with more comprehensive access to their own data.
The meeting will also consider what 'big data' means for health and care and hear from an international pioneer of genomic science, Dr Patrick Soon-Shiong. He will argue that the NHS in England has a unique opportunity for global leadership in the development of personalised medicine.
You can also join the conversation on Twitter using the hashtag #health2020.
Published 8 December 2014