Press release
Warning to drivers as nationwide thundery showers forecast
Road users across England are being warned to take extra care during heavy, thundery showers expected this weekend.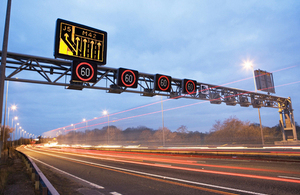 The Met Office has issued an amber warning for rain, starting on Friday night (18 July) and continuing through Saturday (19 July), warning of torrential downpours and a risk of localised flooding.
According to the forecast, the showers will begin in the south of the country overnight on Friday and move northward throughout Saturday. The showers are expected to be localised and short, but torrential and thundery, and are possible across much of England over the weekend. It is possible that some of the showers will be heavy enough to cause temporary, localised flooding on some roads.
The Highways Agency, which operates and maintains motorways and major A roads in England, is working closely with the Met Office to monitor weather conditions and keep journeys safe and reliable.
Simon Sheldon-Wilson, Director of Traffic Management at the Highways Agency, said:
With schools across the country now broken up for summer, lots of people will be taking to the roads this weekend. While this weather should not prevent people from making a journey, it's important that drivers are aware of the forecast and drive appropriately.

Rain and spray can reduce visibility and when the road is wet it can take up to twice as long to stop so it makes sense to slow down when it's raining and leave plenty of space between you and the vehicle in front. It's also a good idea to check the latest conditions before setting out on a journey – it only takes a minute and can save you a lot of time if there is an incident on your route.
Highways Agency Traffic Officers across England will be monitoring weather and traffic conditions around the clock and will be on hand to quickly respond to incidents, while colleagues in regional control centres will be monitoring CCTV cameras, answering emergency telephone calls and setting advisory signs for drivers to warn of spray and other road conditions.
The Highways Agency previously issued advice to people driving over the summer holidays. Drivers can check planned roadworks on motorways and major A roads in advance on the Agency's website. Just before they set out they can get up-to-date information about incidents and congestion hotspots on the road network by calling the Agency's helpline on 0300 123 5000 or by checking Twitter.
Information about the Agency's road network is available on the Traffic England website and drivers can download a live traffic info app to their smartphone so they can check on current road and traffic conditions while en-route. But remember it is illegal to use a mobile phone while driving.
For information on weather conditions, visit the Met Office website www.metoffice.gov.uk or listen to local radio.
General enquiries
Members of the public should contact the Highways Agency Information Line on 0300 123 5000
Media enquiries
Journalists should contact the Highways Agency press office on 0844 693 1448 and use the menu to speak to the most appropriate press officer.
Published 18 July 2014